It's Time! Start Decorating for the Holidays Now
---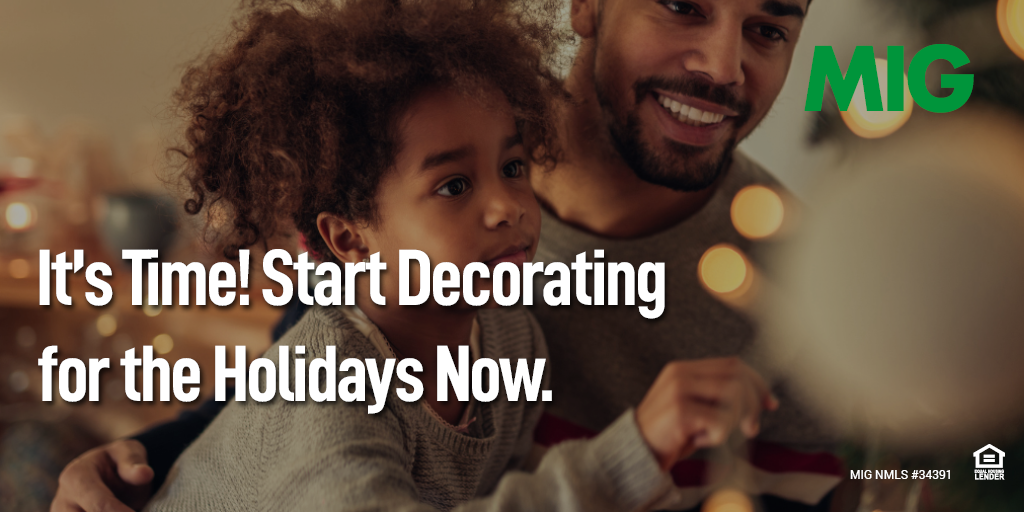 Are you one of those people who can't wait to deck your home out in holiday adornment? Then your favorite time of year is here! Start gearing up now to make your home a holiday decor extravaganza. Here are some smart ways to start decorating for the holidays.
Clean First
Your ambitiously gorgeous holiday decor plans should begin with a clean, uncluttered slate. Wash your curtains, blinds, and windows, dust all your surfaces, picture frames, and knick-knacks, and sweep and mop your floors. Store any vestiges of summer, so your winter holiday decorations will not be competing with other looks.
Inventory What You Have
Visit your basement, or wherever last year's decor was stored away, and look at the items you already own. If you haven't already, go ahead and throw away any that are broken or damaged. Using the stuff you used last year can save you some money. From there, plan on what you want to add this year and think about where you can purchase it to merge it into a cohesive look
Start With Transitional Decor
If you don't want to decorate for Christmas in early November (although there is NOTHING wrong with that), find some items that can be part of your fall and Thanksgiving decor that stretch into winter. Warm colors, vibrant wreaths, ribbons, and greenery are great items that look great throughout all the holidays. Glass canisters with red apples or sprigs of pine are also visually appealing for all the holidays.
Amplify Your Welcome Appeal
Your holiday decor should start at the door of your home. Either purchase or DIY a beautiful holiday wreath with ribbons and flowers. Add a holiday welcome mat and set some poinsettias or mini trees in gold or silver pots on each side of your doorway. For a more stunning statement, outline your doorway with greenery, ornaments, ribbons, and lights. For a more whimsical look, "wrap" your doorway in gift wrap, complete with a big bow and a "card" that says Welcome.
Add Personalized Touches
Our personalized possessions are typically our most valued, and the holidays are wonderful times to display them. Use the ones you already have and take time to add more to your decor. Add a unique ambiance with fun photos with holiday frames, DIY or photo ornaments, and hand-painted candleholders. Antique decor you find at resale shops or online can elevate your home's holiday expression, too.
Engage All Senses
Dazzling your family and guests with your holiday decor is one thing, but the vibe will be even more spectacular if you bring their sense of smell, taste and touch in, too. Set out some holiday-scented candles like cinnamon, vanilla, or pine to entice them, add some soft throw pillows and holiday-themed throw blankets to your seating. Make some delicious cider or hot chocolate, or bake some cookies to make their mouths water.
Don't Be Afraid of Glitz
Even if you're going for a rustic look, the holidays are a good time to indulge in some sparkle. Add some metallic candleholders, a few sparkly ornaments, and some gold or silver bows to your decor to give your space some extra oomph and appeal. These small additions will set off the rest of your decor, regardless of your theme, nicely.
Put String Lights to Work
When it comes to holiday decor, the belle of the ball is string lights. You can drape, hang, lay, and weave them into every area for a magical, elegant look. Choose from white or colored, stable or blinking, depending on the overall look you want. Add them to your wreaths, windows, fireplace mantle, and table. Cluster them in glass bowls or around your table centerpiece. The possibilities are endless! String lights are a must-have and will instantly add depth and visual appeal to all your decorations.
Use Multiple Little Touches
Yes, the large pieces of decor are essential in driving your home's look, but don't overlook the importance of the final touches. Sentimental photo vignettes on a side table, charming napkin holders, hand-tied bows in a plaid or checked material, and other small additions are what sets off your look and makes it personal and memorable.
If you're champing at the bit to get your decorating on, don't hold yourself back because you think it's too early. Look at what you have and make a plan for how to use it, then shop to fill any holes in your plan. And, even if you don't enjoy cleaning, knocking that chore off the list first is key to achieving your holiday decor dreams. Putting this much effort into decorating your home for the holidays will pay off in big ways, and give you a lovely, fun space to celebrate with your family and friends.