Top 5 Home Renovation Trends for 2023
---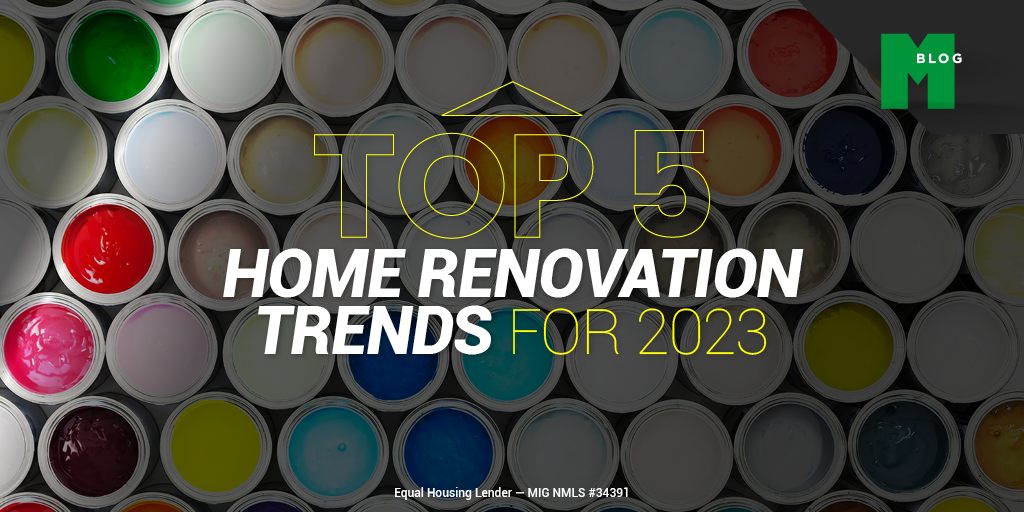 Whether you've lived in your place for years and want to update it, or you just moved into a house that needs some TLC, it's smart to spend your time and money investing in renovations that offer high return on your investment. That way, if you sell your home down the road, the remodeling you did will be attractive to buyers and garner you a higher price.
Here's our list of the top five home renovations for 2023. If you're trying to decide what to tackle first, consider one of these.
Outdoor Living Upgrades
Being able to enjoy the outside adds a new dimension to your home. Plus, sunshine and fresh air work wonders on our moods! Consider fencing in your backyard, adding a patio or deck, or building a screened-in porch. If you have the budget, add a dining area, or even an outdoor kitchen, to your backyard. These outdoor areas give your family an additional place to entertain, relax, and recharge without ever leaving home.
Home Office Remodels
Working from home is a full-time reality for many folks. Since most of us work at least 40 hours a week, it makes sense to have a dedicated area for doing it. Instead of toiling away on your dining room table or cramming a desk in the corner of your bedroom, add an office space to your place. If you have an extra bedroom, clear it out and remodel it into a functional office area. No extra space? No problem! Purchase a shed or renovate your garage to make an on-site office area.
Bathroom Renovations
Who doesn't crave a large, updated, spa-like bathroom? We all do! Bathrooms are high-use areas of every home, which is why updating them is a good idea. Tear out old tubs, toilets and vanities to replace them with high-quality, functional pieces. Add some complementary flooring, a nice coat of paint, and some storage space for greater functionality. While bathroom renovations can get costly, they are worth it when you consider your family will use and enjoy them every day.
Kitchen Updates
Fully upgraded kitchens are many a homeowner's dream. We spend tons of time in the kitchen cooking, eating, cleaning and just hanging out. Upgrading the flooring, cabinets and countertops plus purchasing new appliances are big ticket items that pack a huge punch in how welcoming and comfortable a home feels. Finishing touches like high-quality faucets, a fresh coat of paint, and a colorful tile backsplash are the icing on the kitchen cake.
Multi-Use Space Design
Another hot trend getting everyone's attention is ditching single-use areas. Doing this helps families use their space more effectively and get more out of every square foot. Instead of keeping a guest room available for those three nights a year when you have company, purchase a pull-out couch and use that space for a home office or craft room. Build extra storage under your staircase, or add a pull-down desk in your bedroom. With some creativity, homeowners can make the most of the room they have and enjoy their property more.
On a Budget? Opt for Some Mini Upgrades!
You may be reading this thinking you don't have the four or five figures worth of cash some of these hot renovation trends demand. Fortunately, you can still freshen up your space, even if you can't spring for a complete remodel. Some budget-friendly remodel ideas are:
Add a fresh coat of paint to your kitchen or bathroom.
Upgrade to high-end kitchen and bathroom faucets.
Install a gorgeous kitchen light.
Purchase some modern cabinet knobs for your kitchen.
Hire someone to professionally clean your carpet.
Paint your kitchen cabinets.
Add some bead board to your hallway.
Paint your fireplace.
If you can't do an entire kitchen upgrade, replace the countertops.
Buy longer drapes and hang them just below the ceiling (to make your windows look larger).
If tackling some home renovations is on your list for 2023, choose from these trends wisely. It pays to think closely about what your family enjoys, where in the house they spend the most time, and what would have the most positive effect on your daily lives. From there, let your creativity and your budget be your guide.