Everything Homeowners Should Know About FHA Streamline Refinance in 2022
---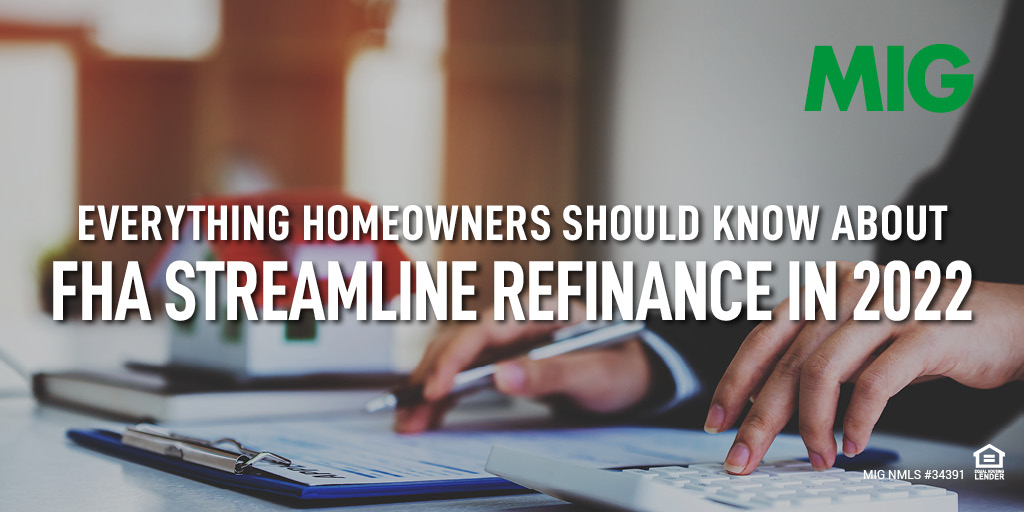 Posted by : Admin
You may be thinking about refinancing your mortgage to save some money. As with the original mortgage, you'll need to weigh your options and decide which type of refinancing best meets your goals. If you're a homeowner who currently holds an FHA-backed mortgage, the FHA streamline refinance program may be your fastest and best option.
Here's everything you need to know about the program and how it can benefit you.
What Is an FHA Streamline Refinance?
The Federal Housing Administration (FHA) offers refinancing to FHA homeowners who want to lower their interest rate or decrease their monthly mortgage payments.
Some highlights of an FHA streamline refinance:
It's a quick, relatively simple process that is often easier to navigate and faster to complete than other refinancing options.
The FHA streamline refinance allows you to refinance even if you owe more on your home than it's worth.
A non-credit qualifying FHA streamline refinance may not require a verification of income.
You probably won't have to deal with an appraisal, since the refinanced amount is determined by what you owe, not your home's value.
When Does an FHA Streamline Refinance Benefit You?
There are several reasons why a homeowner would want to use this program to refinance. If you say "that's me" to one or more of these, you may be a great FHA streamline candidate.
If you have an FHA-backed mortgage. Other loan programs are not eligible for an FHA streamline refinance.
You want to skip strict credit steps and income verifications.
You don't want to deal with getting an appraisal. Not having to get an appraisal saves you the appraisal cost and the time you must wait on the appraiser to complete it.
You want to decrease your mortgage interest rate. If you can snag a mortgage rate a point or lower than you have now, and you're planning to stay in your house a few years or longer, decreasing your interest rate could end up saving you thousands of dollars.
You want to decrease your monthly mortgage payments. If your income has decreased (a spouse has stopped working, you've lost out on overtime hours, etc.), or you have larger financial obligations than you once did (a new vehicle, a kid in college, etc.), a smaller monthly mortgage payment can add breathing room to your budget.
When Is an FHA Streamline NOT the Best Choice?
While convenient, quick and helpful, this type of refinancing doesn't fit everyone's goals. Look for a different type of financing if:
You're refinancing to get cash out from your equity. FHA streamline refinancing doesn't allow cash-out options over $500.
You don't have the money for closing costs. While other refinancing options allow borrowers to roll their closing costs into the new mortgage loan, the FHA streamline does not.
You don't want to pay a mortgage insurance premium (MIP). FHA loans, including their refi programs, require MIP even if you owe less than 80% on your loan (which is the threshold for not paying MIP for other loan programs). If you want to avoid paying MIP, look at other refinancing programs.
You have several recent late payments. You can't qualify for an FHA streamline if your credit report shows more than two 30-day late payments in the last year.
You don't live in the home you want to refinance. FHA streamlines are meant for primary residence properties only.
How Does an FHA Streamline Process Work?
If you've decided to move forward with using an FHA streamline refinance, here's what you can expect.
Talk to your loan officer. They can lay out your options.
Review the new mortgage's interest rate and monthly payment amount to make sure refinancing makes sense.
Complete the application, allow the loan officer to pull your credit, and provide the other required information.
Allocate the money to pay for the closing costs.
Get ready for closing in 30 days or less.
Depending on what you're trying to achieve, refinancing your mortgage loan may be a smart choice. If you currently have an FHA loan, a streamline refinance may be the easiest and fastest way to lower your interest rate and/or decrease your mortgage payment. Talk to your loan officer to find out more.