Ready to Get Back to School? These Pointers Will Make Your Family's Morning Routine a Breeze
---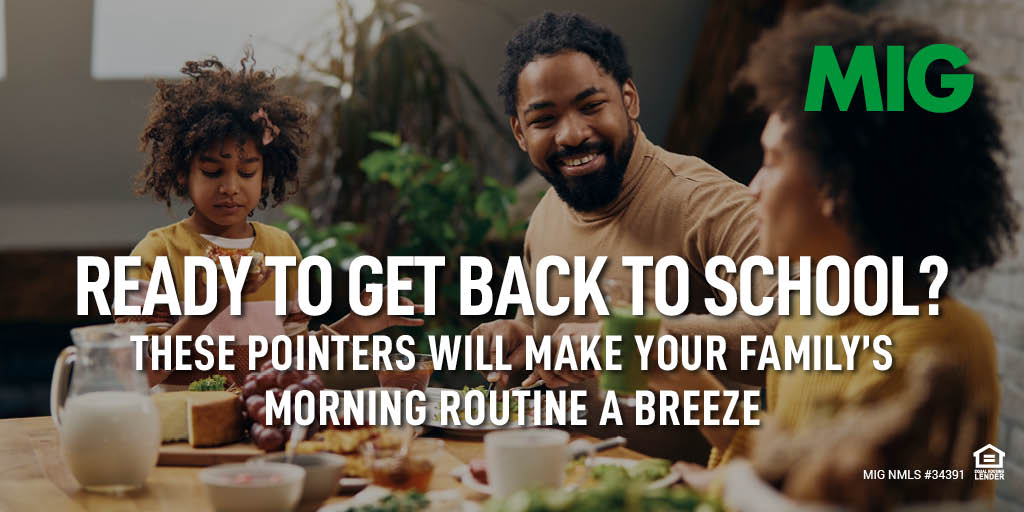 Summer's almost over, and it's time to get into the back-to-school routine. Whether you're ready for a more structured schedule or you wish the lazy days would last forever, it's essential to create a plan for getting your family organized. Follow these tips to make everyone's mornings a breeze.
The Week Before
There are tasks you can mark off your back-to-school list early that set you up for success. Start getting ready for going back to school the week before, so the tasks don't creep up and overwhelm you.
Go to bed earlier and wake up earlier – As fun as it's been, the lolling around looking on your tablet or watching TV late into the night is over. Start getting on your back-to-school schedule several days in advance. This helps every family member get used to waking earlier than they have been during the summer.
Shop for school supplies – Hit the stores or make an online order to get everything your kids need to be successful at school — notebooks, calculators, pens and anything else they need for their new grade. Shopping in advance takes the stress out of doing everything last-minute.
Designate a "command central" location – We run fire drills, why not do a back-to-school practice drill? Set up one place everyone knows to leave and find their "stuff." You may even want to designate a basket or bin with a family member's name on each one. It's smart to set this up close to the door. Everyone can leave their important things there, from their homework, backpack, and keys to their laptops and shoes. If anyone misplaces anything, they know to check "command central" first.

The Night Before
It's almost go-time, so get refreshed and ready for the first day back to school.
Plan a relaxing evening – Tonight's not the time to go out or have friends over. Make sure everyone's schedule is clear and get everyone to hang out, eat a healthy dinner, and go to bed on time. This sets everyone up to be rested and energized when they head into the first day of school.
Pack lunches – Get the kids to help pack their own lunches. Make sure you have sandwich meat, veggies and fruit, juice boxes or bottles of water, and easy-to-eat foods like cheese and crackers. If they get used to packing their lunches, this will save parents tons of time during the school year. It also gives pickier kids a choice of what they want to nosh on at school.
Pack backpacks – Get everyone's school supplies packed into their backpacks the night before you leave. Include school supplies, money, and any medication they take during the day. This helps you avoid forgetting something important and makes sure everything fits. If you've forgotten to buy something, you also have time to dash out and get it.
Lay out your clothes – Nothing ruins good morning vibes like looking for a wayward earring or trying to locate a missing shoe. Get your older kids to pick out their outfits the night before and lay them on their dresser or hang them front-and-center in their closets. Choose the clothes for your younger children, complete with socks and shoes. Doing this chore the night before will save time and stress in the morning.

The Morning of
The day you've been planning for has arrived! It's time to capitalize on everything you've put into motion. These tips will help you crush it.
Set the tone – Instead of having a "GO! GO! GET IT! GET IT!" attitude that puts everyone on edge, take a deep breath and commit to staying calm. Children pick up on a parent's energy, and if they see you being calm, they're more likely to be that way, too. This helps them arrive at school relaxed and in a good mood.
Keep breakfast simple – A big breakfast with several offerings could seem like a good idea… but get real. Cooking a large meal on the first day of school is just going to put too much pressure on you, and possibly make you and everyone in the family late. Instead, opt for simple things like cereal and milk, oatmeal and almonds, boiled eggs (cooked the night before), peanut butter and toast, or yogurt with granola and fruit. Any of these are nourishing, but quick and easy.
Watch the clock – When you're rushing around getting everything ready and everyone out the door, time can slip away faster than you realize. Avoid being late the first day of school by placing clocks prominently in every bedroom, bathroom and the kitchen. Give everyone a periodic reminder "We're leaving in 20 minutes" or "This is your three-minute warning" to keep them moving.
Do one last check – Save yourself the trouble of driving back to the house to pick up a forgotten lunch or baseball jersey. After everyone's out the door, do a quick run-through of the bedrooms, kitchen, and command central to catch any items your kids might have inadvertently left behind.
Make the ride fun – Kids could be nervous about their first day in new classes with unfamiliar teachers. Take their minds off it by turning up the volume for a singalong with our picks from Spotify or playing a game everyone likes. This helps pass the time and mitigate sibling conflicts that could crop up.
Back-to-school prep can seem impossible, but it doesn't have to be. After all, you make it through it every year! By starting early, making sure everyone is rested, setting a calm tone, and keeping everyone on track, you can ensure that the first day of school is a success for everybody. Don't forget to make it fun by playing some music from our Spotify playlist.