What You Need to Know About Refinancing an Investment Property
---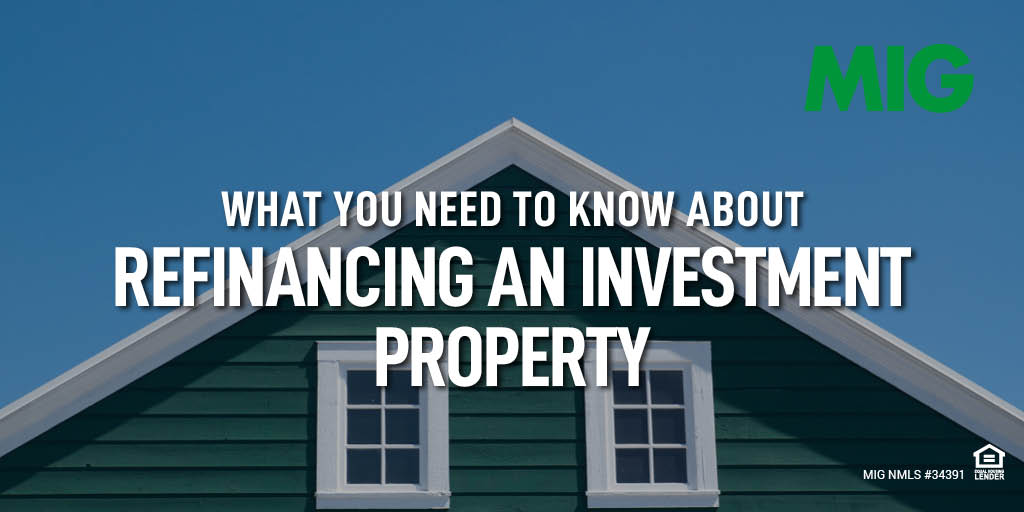 Own an investment property? You may be thinking of refinancing for numerous reasons. Maybe you need the equity for college tuition, household repairs, or for purchasing another rental property. Or, you may just want to lower your interest rate and decrease your monthly mortgage payment.
It's important to realize there are differences between refinancing a rental property and refinancing your personal residence. Whatever the reason for refinancing, here's what you need to know.
Decide Why You Want to Do It
What's driving you to refinance? As we mentioned above, there are many reasons for deciding to refinance your investment property. You may need the equity for something else, want a lower monthly payment, or want to decrease the length of your loan and pay the property off sooner. Determining why you're refinancing on the front end helps you navigate the process and weigh your options to ensure they make sense.
Prepare for Tighter Requirements
Lenders are stricter with refinancing rental property than personal residences. Why? They're easier to walk away from.
A person needs their personal residence more than they need their rental property. If they can only afford one property, they'll almost always make the payments on their residence and lapse on the investment property. Be prepared to present a stronger financial picture and higher credit score than if you were simply refinancing the property you live in.
You Need to Have Equity
Since lenders are more careful refinancing rental property, you'll need to have more equity in it than you would your personal residence. Programs vary, but you should plan on having at least 25 percent equity in your rental.
Documentation Is Mandatory
The mortgage process is document-heavy any way you slice it, but it's even more so during an investment property refinance. The lender will want to see your W-2s or 1099s, and copies of your assets, title insurance, and homeowner's insurance on the property. They'll also verify your income and employment before approving a mortgage loan. Tracking down these documents in advance can save you some time once you meet with your lender.
Talk About Options With Your Lender
Working with a professional, experienced lender makes all the difference, whether you're refinancing your personal residence or rental property. Explain why you want to refinance and ask them to run the numbers and lay out your options. Share your financial information and authorize them to pull your credit.
This is the part of the process where you can firm up the details about new payments, what you can do with your equity, and new loan terms. Use this information to decide if refinancing is a viable and smart option.
Lock in Your Interest Rate
Refinancing may be all about a better interest rate. Ask your lender to lock you in once you decide refinancing your rental is what you want to do. This means the lender snags the current rate for you, even if the rate goes up before you close. Failing to lock in the rate leaves you at the mercy of the market, which can fluctuate quickly. This can cause rates to go up and increase your payments significantly. Locking your rate gives you peace of mind.
Prepare for an Appraisal
Investment properties must be appraised before they can be refinanced, just like primary residences. Before the appraisal, repair any issues and write down a list of upgrades and renovations you've added since you bought the property. These steps help the appraiser see your home in the most positive light.
Proceed to Underwriting and Closing
All the financial information you've shared with your lender and a copy of the appraisal will go through underwriting and be reviewed. If everything falls in line with the lender's standards, you'll move to closing. This part of the process might take several weeks.
During closing, you'll need to sign several documents just like when you first bought the property. You'll also need to pay any closing costs, which they'll tell you about in advance. No guarantees, but there shouldn't be any surprises at this late stage of the process.
Refinancing your rental property might be the best financial move for you. Just be prepared that it may be a more difficult and in-depth process than refinancing your residence because lenders look at it differently.