Does Getting Pre-approved Affect Your Credit Score?
---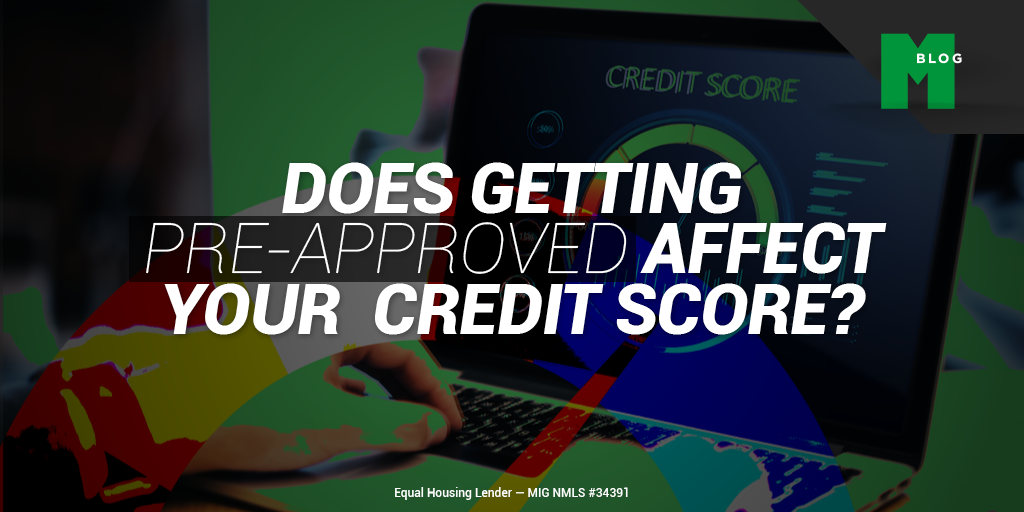 A great credit score is a vital component of your financial well-being. A high score offers lucrative advantages like more loan options and better interest rates.
Protecting your credit score is a smart decision. However, sometimes it's easy to be overzealous. There are times when agreeing to have your credit pulled is necessary to qualify for loans you need. It doesn't help that there's misinformation all over the web that can frighten a responsible consumer trying to protect their credit.
If you want to buy a home, you may have heard you should get pre-approved for a loan and wondered if doing so would impact your credit score. We'll answer that question for you, and explain the ins and outs, right now.
Does Getting Pre-Approved Affect Your Credit Score?
Getting pre-approved may or may not affect your credit score. When you go through the pre-approval process, the lender will pull your credit report. This credit pull shows up as a hard inquiry on your credit. The scoring model may look at the inquiry negatively, which could cause your score to decrease.
How Much Will Getting Pre-Approved Affect Your Credit Score?
The good news is, if it does affect your score, it won't be by much. The credit scoring model factors in new inquiries, but they only comprise 15 percent of the credit score. Sometimes the credit score will decrease by up to 10 points, sometimes by 2 points, and sometimes it won't move at all. Inquiries will rarely decrease the score by more than 10 points.
Other Information to Know About How Pre-Approval Affects Your Credit Score
If you're trying to decide if getting pre-approved will decrease your credit score, consider these factors:
Do you have a long, positive credit history?
Consumers who have a decade or more of credit history, have paid their bills on time and kept their credit card balances low, and who have sparingly applied for new credit will most likely see little or no decrease in their credit score from getting pre-approved.
Have you checked your credit lately?
Many people are surprised by their credit scores when they try to buy a house. Don't get blindsided by scores lower than you expected. Pull your credit and make sure there aren't any errors like late payments reported incorrectly or accounts showing up that aren't yours.
Are you letting multiple lenders pull your credit?
If you're trying to get the best rates, don't be concerned with multiple credit pulls in a short period. The credit scoring model recognizes mortgage credit pulls and counts multiple pulls within a 45-day window as a single hard inquiry. While you'll see each pull noted on your credit report, your credit score will only be impacted once. This is called the "shopping period."
Bottom Line: Is Getting Pre-approved Worth It?
The answer is a resounding YES! Even with the slight risk to your credit score, being pre-approved for a mortgage is loaded with advantages like:
Knowing exactly what you can afford
Working with a lender to get pre-approved saves you the emotional angst of falling in love with a property only to realize you can't qualify for enough of a mortgage loan to buy it. When you get pre-approved, your lender will take your income and debt load into account and tell you the maximum amount you can borrow. This way, you don't waste your time looking at homes that are beyond your budget.
Showing sellers you're serious
Sellers don't want to deal with buyers who may or may not be able to cover their home's price. Deals made with buyers who haven't gone through the pre-approval process are far more likely to fall through. If you can show a pre-approval letter, the seller can be confident you're serious about purchasing their property and will usually be more likely to consider your offer.
Standing out from other buyers
Getting a competitive edge is more important in this blazing-hot market than ever before. If all other things are equal, a pre-approval letter may be what tips the scales in your favor.
While getting pre-approved can impact your credit score, it's still well worth the risk. For one, it won't impact your score heavily, and for another, a pre-approval letter may be the difference between landing the home you want and being left empty-handed. If you're serious about buying a home, getting pre-approved is the smart way to go.