Is Your New Year's Resolution to Buy Your Dream Home?
---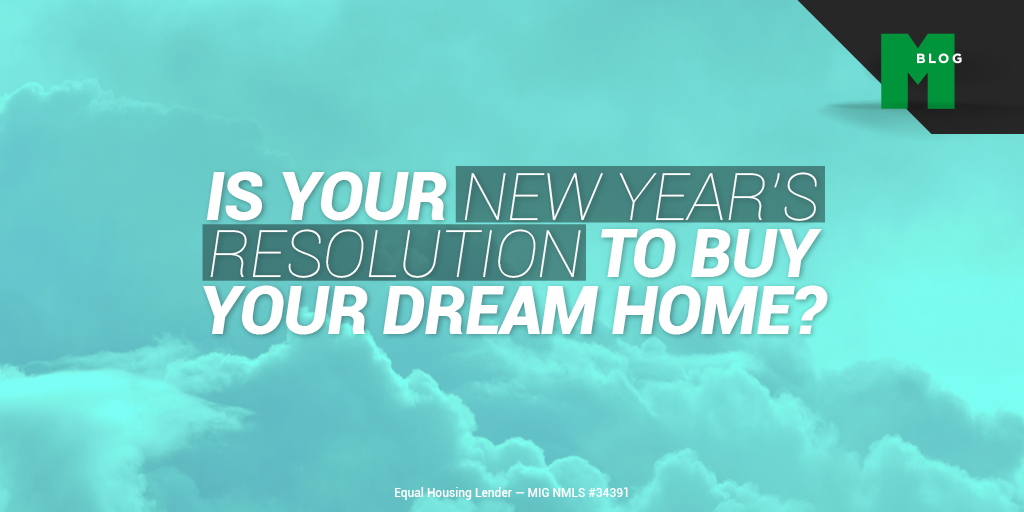 If this is the year you're going to become a homeowner, then you're in the right place. Read on for some trusty tips and tricks that will help you navigate the process.
Make a Budget
If you don't already know where most of your take-home pay goes, figure it out with a budget. Either write it down the old-fashioned way or use a handy expense tracking app. Log your rent, recurring bills, credit card payments, and extras like food, entertainment, hobbies and shopping. Be honest with yourself, even if it shocks you how much you spend on your movie habit or those frequent lunches out with coworkers.
Decide How Much Home You Can Afford
Once you have your budget laid out, figure out how much you can spend on a home. Mortgage calculators are helpful tools in landing on an amount that fits your budget.
A common mistake first-time homebuyers make is only considering the monthly mortgage payment (which typically includes the principal, interest, property taxes and insurance). Don't forget to add in the unavoidable home repairs, extra utilities and any other expenses like homeowner's fees, lawn care and general upkeep. The sum you come up with is what needs to fit into your budget for you new house.
Make a "Must Have" List (and then chop it)
Before you start looking at homes, nail down the amenities you absolutely must have in your dream home. A fenced-in yard? Check. A remodeled kitchen? Check. A spacious bathroom? Check.
Now start crossing things off the list.
Unless you have an unlimited budget, you're probably not going to find a home that checks a dozen "must have" boxes. Instead of setting yourself up for a long road and multiple disappointments, settle on four to six amenities that are most important to you. Base these on your lifestyle and what you enjoy doing. Have a lot of clothes? Big closets make the list. Are you an inside person? Then maybe scratch the big yard.
Shape Up Your Credit
Your credit score plays a pivotal role in qualifying for a mortgage loan. High credit scores open doors to more loan options and lower interest rates. The sooner you tackle your credit, the better.
First, pull your credit and review every line. If there's anything that's incorrect (which happens more often than you'd think), dispute the information with the bureaus.
Make sure you pay every bill on time and in full every month to keep a positive payment history. In addition, diligently pay down any credit card balances you owe, and don't apply for any new credit.
Taking these actions will protect your credit history and help you avoid nasty surprises when the loan officer pulls your credit.
Save 'til It Hurts
Remember those movie nights and lunches out we mentioned earlier? Keep those to a minimum, please. Buying a house is easier if you have some money socked away. You'll need funds for a down payment, closing costs, moving expenses, and other purchases associated with home buying.
Surround Yourself With Pros
Don't even try to figure out everything about home buying on your own. There are reputable professionals who are willing to help you at every stage.
Find an experienced real estate agent and a loan originator to help you navigate the finer points of finding and financing your dream home. These experts have been through the process many times and can accurately and completely answer all of your questions. Connecting with professionals early in your process will save you untold amounts of time and headaches.
Get Pre-Approved
We can't stress this point enough. If you're serious about purchasing a home, you need to get pre-approved for a mortgage. The process gives you valuable insight into how much home you can afford, which can save you time during your search. In addition, a pre-approval will compel sellers to take your offers more seriously than buyers who don't have it. It's especially important to get pre-approved during a seller's markets when competition is fierce.
Remain Calm
This may sound easy, but it's the most difficult thing on the list. Buying a home is stressful. You may fall in love with a home that goes to someone else, be in the middle of a deal only to have it fall through, or experience a dozen other unplanned mishaps. Take a deep breath and stay focused on your end goal, which is finding and buying a home you'll be happy in. Once you're moved in, you'll forget (or at least not remember in vivid detail) the rough patches it took to get there.