Avoid These 9 Common Mistakes When House Hunting
---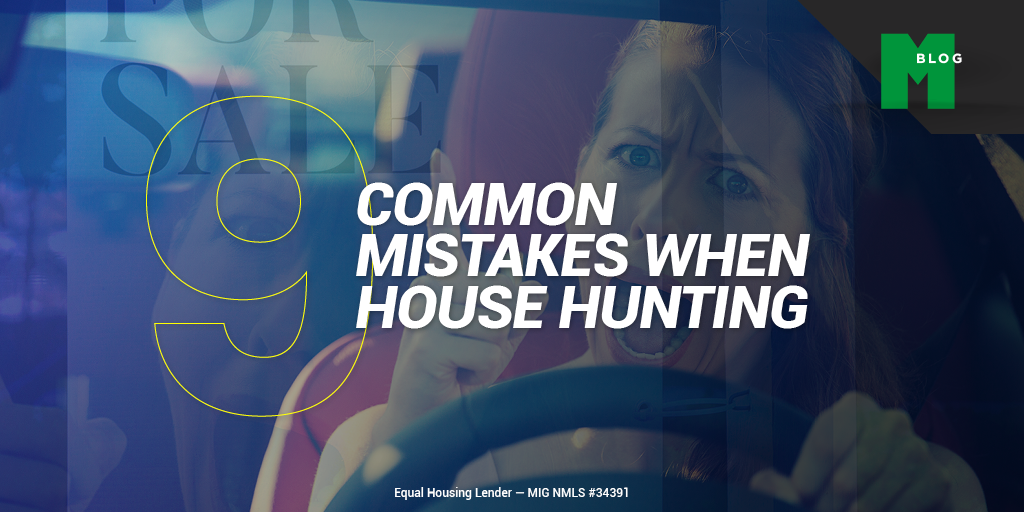 Buying a home is probably the biggest purchase you'll ever make. There are several ways you can go down the wrong path and end up paying for those mistakes for years.
No pressure, right? Never fear, because we're going to make you aware of the nine biggest mistakes to avoid while you are house hunting.
Failing to Get Pre-Approved
Proactively meet with a mortgage company near you and get pre-approved. It helps you know how much house you can afford and shows sellers you're serious about buying. Don't miss this step!
Forgetting to Pull Your Credit
The sooner you can pinpoint potential credit issues, the more time you have to address them. Pull your credit report from all three credit bureaus — Equifax, Experian and Transunion — and go over the reports line by line. If there are any mistakes or accounts that aren't yours, dispute them with the credit bureaus immediately. You can get your credit report for free once a year from www.annualcreditreport.com.
Shopping Outside of Your Budget
It wouldn't hurt to just walk through that gorgeous house that's 50k over budget, right? Yes. Yes, it would. Homes within your budget that you would have otherwise loved may not seem so impressive after wandering through out-of-reach luxury properties. Don't do this to yourself.
Ignoring Your Work Commute
You'll be living in the property you buy every day, so it should be convenient to where you work. Adding an hour each way to your commute is going to be a real drag once the newness wears off your place. Keep convenience in mind during your house hunting process.
Making a Big Purchase
Let's go ahead and get new furniture or go on a big trip before we move! No, don't do it. These expenditures could throw off your credit score (if you charge them). The money could instead be put toward your down payment, which benefits you long-term in lower monthly payments for the life of the loan.
Overestimating Your Handiness
You can often get a great price on a fixer-upper, which is a steal — unless you can barely change a light bulb. Incorrectly assuming you'll be able to do lots of the renovations yourself can set you up for the big cost of (eventually) hiring a professional.
Not Taking Your Lifestyle into Account
If you have a couple of big dogs, a fourth floor condo is probably a bad idea. Don't fail to consider your hobbies and lifestyle when you're house hunting or your new property could end up cramping your style.
Sticking It Out With a Bad Real Estate Agent
Does your agent show you homes that don't fit your preferences, fail to call you back, or act dismissive about your questions? Buh-bye. Find an agent who will function as your partner in this venture.
Skipping a Home Inspection
There may be huge, costly issues lurking in the attic, walls or basement of the property that you won't ever uncover by yourself. Springing for a professional inspector can save you literally thousands of dollars and tons of headaches down the road.
Avoid these common mistakes while house hunting to ensure you make the best choice. Contact MIG to get pre-approved for a mortgage to start the homebuying process the right way.