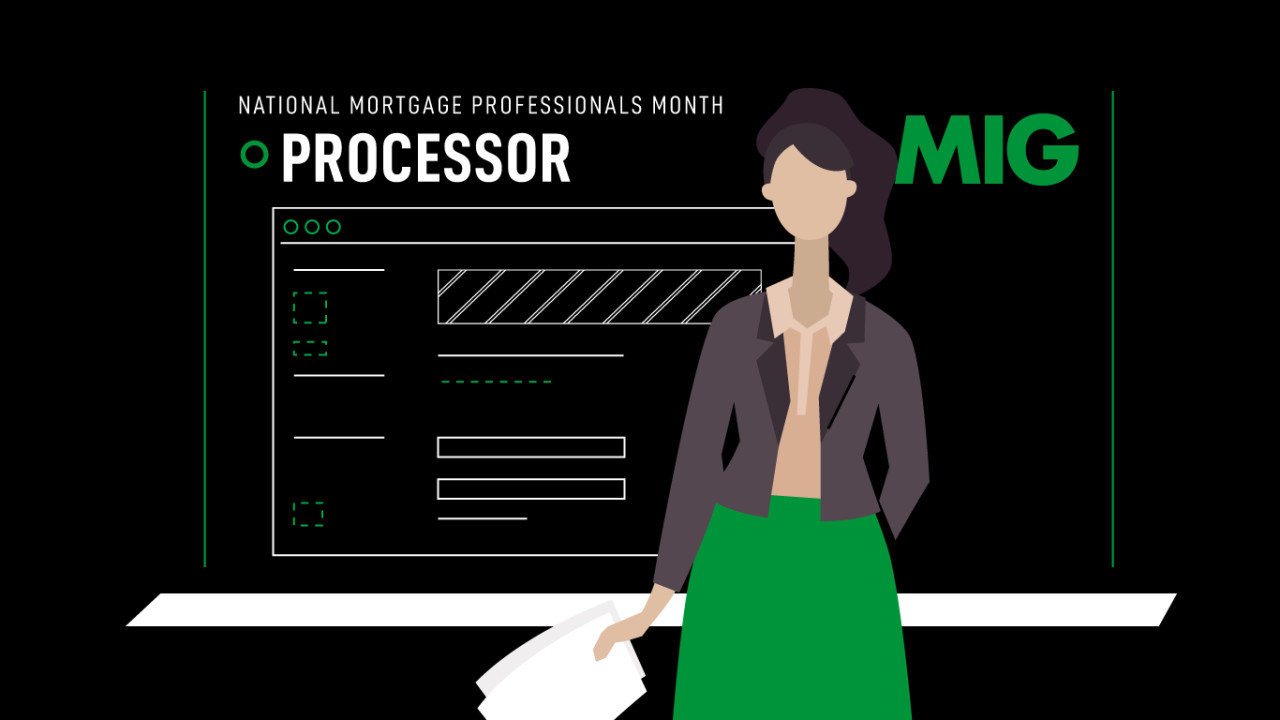 Each year, Mortgage Investors Group helps thousands of homebuyers select the home loan program best suited to their needs. Yet, few people outside of the mortgage lending industry understand the hard work happening behind the scenes that leads up to the memorable day when the borrower receives the keys to his or her new home. To commemorate National Mortgage Professionals Month this September, we're sharing insights into the important roles each department plays in ensuring our borrowers are able to finance the home of their dreams. This week, we focus on the Processing Department.
Working Hard for You
The roughly 80 men and women who make up our Processing department are a detail-oriented, organized group who serve as a bridge between the Loan Officers, title company and other departments, such as Underwriting and Closing. From the moment a loan application is submitted, they begin the process of reviewing it for completeness and accuracy.
"The biggest thing they do is organize your loan in a manner the Underwriter will understand," said Assistant Vice President Ronda Day, MIG's branch operations coordinator. "By the time I get this loan, we're figuring out how to make this close."
Processors verify all the information the Loan Officer gathers from the borrower. Typically, this includes a pay stub, asset documentation, bank statements and tax returns. If the customer is also selling a previously owned house, they will collect documents verifying the sale of the home. In the case of a VA loan, they will confirm whether the borrower has met the basic service requirements set forth by the U.S. Department of Veterans Affairs. If the client pays alimony or child support, those documents are also verified by Processors.
The Processing department also orders the property appraisal and title work to be completed.
After all the documents have been validated, they then submit them to the Underwriting department.
"We do a lot of the leg work to gather information, make sure things are ordered and coordinate between the various departments," Day said.
"Processors, in my opinion, help make your loan happen."
Why We're A Leader in our Industry
MIG has 27 branches across the state of Tennessee from Memphis to the Tri-Cities area, Charlotte, NC and is currently expanding into the Southeast.
"The great thing about MIG is we have Processors in almost every one of our offices," Day said. "This allows the origination team to work cohesively for a smooth transaction."
Day has worked for us for nearing 23 years, and many of our Processors have even more experience, resulting in a department-wide wealth of knowledge that benefits our borrowers.
"We try to only ask for documentation once and give a good explanation of why we need it," Day said. "If it's something we can get on our own, we will. Anything we can do to make the borrower's life easier, we do it."
The integrated technology we use also helps us efficiently process loans, leading to a timely closing.
But most important, our Processors have a heart for helping people. They get to know our borrowers and interact often with them so we can deliver compassionate, personalized service and the positive lending experience we strive for at MIG.
"They care," Day said. "It's not just 'the Loan Officer's loan;' it's 'Our loan.'"
From helping a 63-year-old woman buy her very first house to working with a 23-year-old newlywed who had to take custody of younger siblings during the application process, our Processors have countless stories to share about those feel-good moments of helping homebuyers finance their homes.
"They're overjoyed, and you're overjoyed for them," Day said. "We had a borrower who fosters many children and he had some unusual income situations and there were lots of property issues and title issues on the loan. Everyone wanted to see him get into that house. It was definitely a joint effort by all parties."
Related Read: Department Highlight: Compliance