10 Easy Ways to Divide Your Room and Maximize Space
---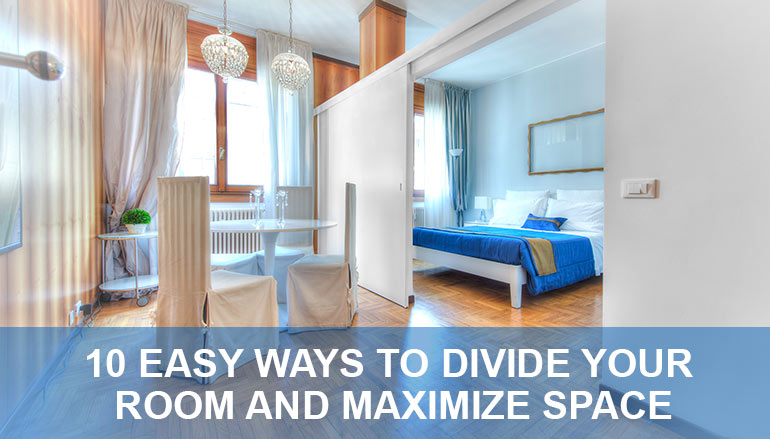 Maybe you have a great room in your home and multiple family members want to use it for something different. Or, perhaps you own a smaller house and just want a little more privacy. The good news is that there are several chic ways to temporarily divvy-up space that won't sink your budget.
Let's talk about 10 of the most popular ways you can divide your room to maximize your space.
1: Floating bookshelves
Function meets convenience with this classic idea. Order one, or a couple, of these online, or DIY one with some wood and spray paint. A bookshelf functions as a room divider and offers up additional space. Use it to display photos, books, or buy some baskets for the shelves to use for extra storage. The possibilities are endless!
2: Privacy panels
There are literally dozens of options with privacy panels. Pick one that suits the decor and feel of both areas. Sturdier options are wood and metal, which are smart to block sound. However, if both sections of the room are sharing the same lighting, cloth or plastic panels work nicely. DIY panels can provide even more ideas. Paint one side a bright color, and the other soft and soothing. Keep in mind the overall vibe you are trying to achieve in the space.
Related Read: Choosing Paint Color and Finishes
3: Stand-alone divider walls
For a bit more privacy you might want to build a divider wall. You can choose a variety of ways to do this. One great look is to use old pallets. The result of this option is that while you still don't have to spend much money, you have a sturdy wall that is a great separator of the spaces. Hang a flower pot, candle holders, or photos on each side to complete the look.
4: Wall planters
Bring the outside in with a cool wall planter. Widely available at your favorite garden shop, they come in a variety of sizes. Or break out your hammer and create your own from repurposed wood and metal. Place colorful pots of vines on both sides of the structure and enjoy a bit of nature no matter which space you are in.
5: Curtains
This is probably one of the fastest ways to divide a room. Add a curtain rod, or a shower tension rod, and hang a curtain to divide the space. This is perfect if you want the space to be able to function as separate areas as well as one big area. Let the curtain down to create two areas or tie the curtain back for one area. Curtains add a soft, relaxing bit of luxury to any space, and they take zero carpentry skills to hang.
6: Wooden crates
An extremely inexpensive way to divide a room is by stacking wooden crates. Either paint them or leave them as natural wood and stack them so that both sides have fronts and backs. On the back of the crates, hang pictures or photos. Use the front of the crates as storage or shelving. Wooden crates are a simple DIY project that adds dimension and character to any space.
7: Beads
Channel a retro vibe with easy-to-hang beads. This is perfect if you want a divider for looks, but aren't necessarily concerned with privacy. Plastic, crystal, or wooden beads are easy to hang from the ceiling and create an instant atmosphere that is fun and funky.
8: Windows
Invest in some inexpensive windows and install them as a wall to divide a space. Smaller rooms are great candidates for this solution as being able to see through the "wall" gives the impression the spaces are bigger than they actually are, but you still create two unique spaces.
9: Ropes
Using rope or twine, depending on your preference, attach the strands to dowels and you have a uniquely designed room separator. As with the windows, this option leaves both areas visible, but still divides the space so they have different looks. Rope wall dividers allow both spaces to have more light, especially if only one of them has a window.
10: Sliding doors
Find some old doors or purchase one of the popular barn doors and hang them on tracks from the ceiling. Doors provide instant atmosphere and a good deal of privacy between the two spaces. Leave them as natural wood for a farmhouse vibe or paint them as a DIY project for your own unique look. Add some metal pulls and hinges to complete the look.
Room dividers are a smart way to maximize your home's space and get the most use out of every square foot. Depending on your level of DIY prowess and your budget, one of these options will be certain to fill the bill. Before you begin, think about the space, the lighting, and whether or not you need additional storage or wall space. Understanding your preferences in the beginning will lead you to the room divider that is perfect for your home!
Related Read: Buying Affordable Home Decor