NEW LOOK CARRIES MORTGAGE INVESTOR'S GROUP INTO NEXT CHAPTER OF MORTGAGE LENDING
---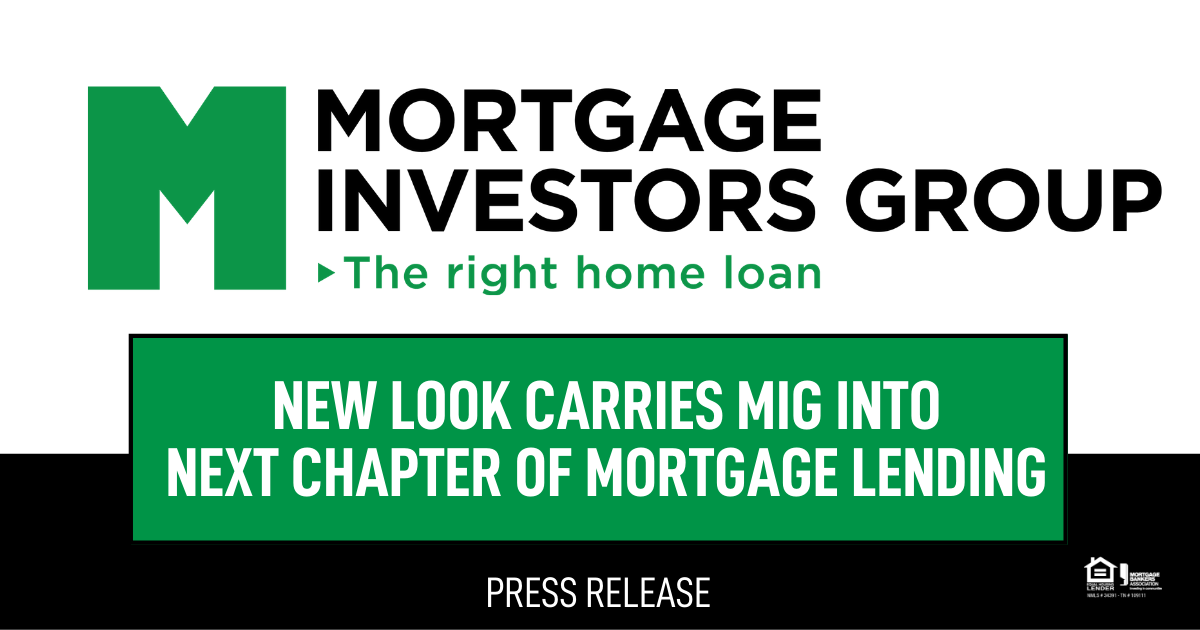 NEW LOOK CARRIES MORTGAGE INVESTOR'S GROUP INTO NEXT CHAPTER OF MORTGAGE LENDING
KNOXVILLE, Tenn. – Tennessee's top residential mortgage lender unveiled an updated logo and fresh tagline today to mark its 30th anniversary of helping people select the right home loan.
The brand refresh also coincides with Mortgage Investors Group's efforts to expand its retail presence in select markets across the Southeast, including Alabama, Florida, Georgia, North Carolina and South Carolina, company leaders announced.
"Our new look goes hand-in-hand with MIG's continued growth across the Southeast, while honoring our 30-year history as a leader in the mortgage lending industry and our steadfast commitment to helping families achieve the American dream of homeownership," MIG President/CEO and Cofounder Chrissi Rhea said.
The new modern, simple and sophisticated logo boasts a brighter green, while other aspects of the updated brand will guide the company in its growth into new markets, MIG Marketing Director Moneek Langston said.
"The new tagline, 'The right home loan,' defines both our commitment to helping families choose the right home loan to achieve the American dream and our mission statement where we promise to 'always do what is right,'" she said.
The design team ensured the updated brand remains recognizable to MIG's loyal customers, Realtors and other community partners, while connecting with new borrowers and industry professionals, Langston said.
"MIG has kept the strong focus on the M mark, as it speaks volumes to the identity of MIG," she said. "We have also branded the abbreviation of Mortgage Investors Group to MIG. We are known throughout the state of Tennessee as both, so the addition of the new branding will help us connect with consumers in another way."
MIG Creative Director Josh Ballard said the Knoxville-based firm's business model has evolved, calling for innovation and modernization to be brought to the brand, while maintaining the integrity and reputation that the company has built since opening its doors in 1989.
"MIG has grown and will continue to even more as we expand our footprint into the Southeast," he said. "It's important for us to relate to a broader audience, especially in areas where we are not as well known, while keeping with our 'Southern roots.'"
The brand refresh aims to uphold MIG's relevance in the market and industry, connect with today's buyers and reconnect with existing customers, he said.
A brand refresh site, www.brandmig.com, helps tell the story, he added, and will serve as a resource to its clients, employees and partners.
MIG is the #1 residential mortgage lender in the state of Tennessee. Since its founding, the company has served more than 125,000 clients in excess of $20 billion. The firm has nearly 400 employees in 25 branch locations from Memphis to the Tri-Cities. With its proven success as the THDA top lender for 16 successive years, as well as the #1 USDA lender for five consecutive years, MIG remains committed to serving borrowers across the Southeast.