Steps to Take to Unfreeze Your Credit Report
---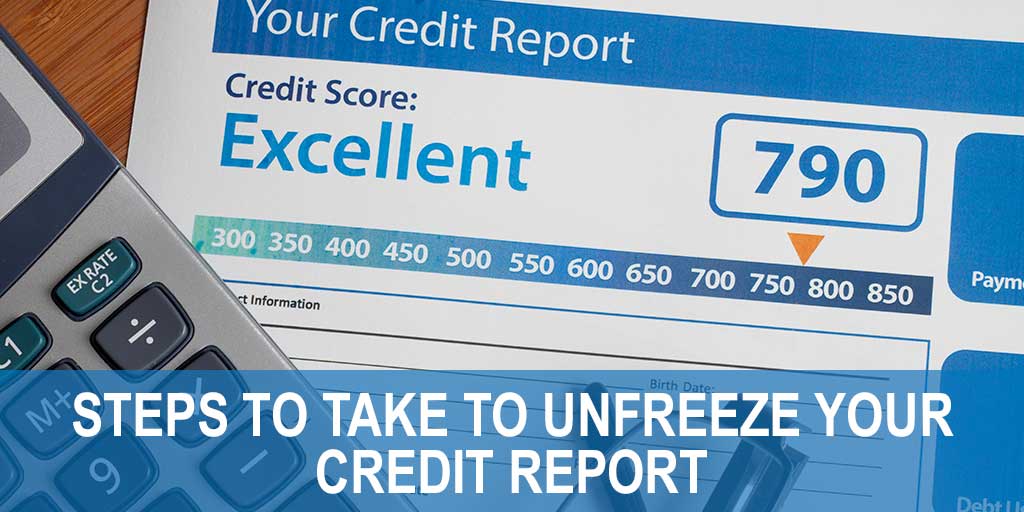 Big headlines about security breaches and identity theft in the last few years have prompted consumers to take action to protect their credit. Many decided to "freeze" their credit to keep it safe from fraud perpetrators. You may have been one of them.
Acquiring a mortgage loan requires pulling your credit report from all three bureaus, and your credit must be unfrozen to accomplish this. Have you forgotten how to unfreeze your credit? Don't worry, we'll walk you through the steps to take to ensure that your lender has access to your credit report.
Related Read: 6 Stops on Your Journey Through the Mortgage Loan Process
Who Must You Contact?
Credit bureaus compete with each other, so they don't share information. To unfreeze your credit report, you'll need to contact each bureau individually. Reach out to them and ask them to unfreeze your file, either permanently or temporarily.
Equifax: Call their automated line at 800-349-9960 or visit their website where you can start a live chat or fill out their online form.
Experian: Start the thawing process by calling 1-888-EXPERIAN or go to their website for instructions on lifting a security freeze.
TransUnion: They recommend unfreezing your credit through an online process. If you're determined to unfreeze your credit by phone, call them at 888-909-8872.
Each of the bureaus accepts requests by mail. However, choosing that option tends to take more time to complete.
What Information Do You Need?
Each bureau must be able to confirm your identity before they unfreeze your credit. Be prepared to offer up your full name, social security number, date of birth, and current address. You may also be asked for your phone number.
At one time, a personal identification number (PIN) was assigned to anybody who enacted a credit freeze. This number was required from all the bureaus to unfreeze your credit. That's not the case now with two of the bureaus.
Equifax currently does not require a PIN from consumers who are unfreezing their credit via the form on their website. You will need a PIN if you are requesting a credit freeze by phone or mail.
Experian is the only bureau still requiring a PIN to unfreeze your credit.
TransUnion does not require a PIN, but you will need to create an account with a username and password if you unfreeze your credit online.
If you decide to unfreeze your credit, make certain you are on the bureaus' true websites by looking closely at the web address. In addition, look for a small "lock" icon in the browser, as this shows you that you're on a secure site. If you don't see one, don't enter your personal information.
Credit Thaw vs Credit Unfreeze
If you are in the market for a house and shopping for a mortgage loan, you'll need to have access to your credit file. That doesn't mean you have to keep it unfrozen or go through the freezing process again. You can choose to either "unfreeze" your credit permanently, or just "thaw" it for a specific period of time.
Equifax gives you a couple of options. You can thaw your credit file for a specific creditor, or for a period of time, from one day to one year. Once that period passes, your credit will freeze again, just like it was before.
You can thaw your credit for a specific time with Experian, too. You can also request a one-time PIN that you can give to the creditor allowing them to pull your credit a single time.
With TransUnion, you can unfreeze your account temporarily by setting a date range that you want your credit file to be available to creditors. After that, the freeze will go back into play.
It's a good idea to only temporarily unfreeze, or thaw, your credit if the factors are still present that made you freeze it in the first place. If you're concerned about identity theft or worried about impulsively opening new lines of credit that can lead to debt, it's smart to thaw your credit and let the freeze automatically turn on again. On the other hand, if you feel your house shopping may take an undetermined amount of time and you don't know for sure how long you will need access to your credit report, permanently unfreezing your credit may be the better option.
Unfreezing your credit isn't difficult or involved and the process can typically be accomplished in a few minutes online. Keep in mind that there's no guarantee the report will be available to creditors immediately, so start the process a few days before you need to have your credit pulled, if possible. That way your lender can review your credit report and hopefully approve your mortgage loan!
Related Read: Understanding Your Credit Score