How to Throw A Football Party at Home
---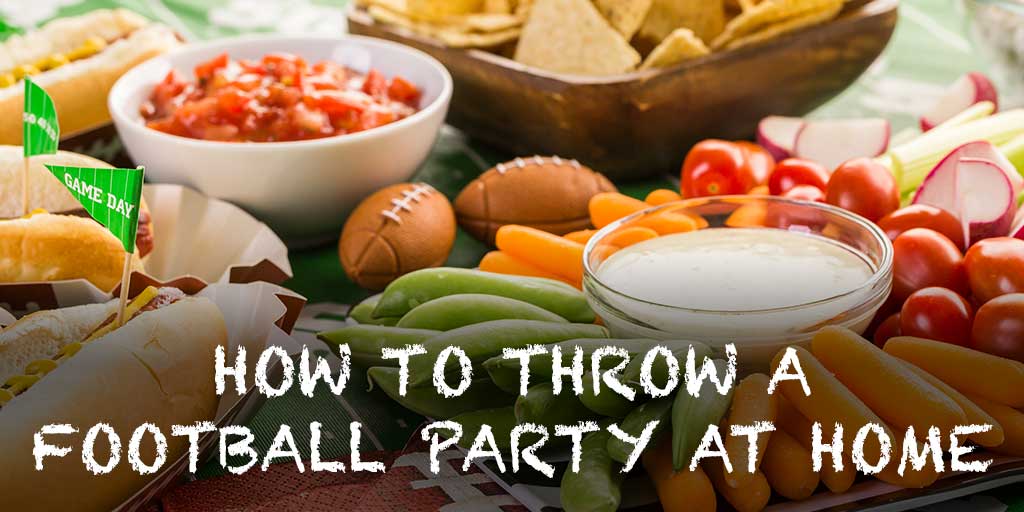 If your favorite team is kicking off soon, it's time to think about entertaining. Yes, we're talking football parties.
No matter the final score, with a little planning, your guests will have a boisterous good time they'll remember far beyond this season. Make your party legendary with these food, decoration, and activity tips.
Stock Up on Necessities
Nothing tanks a party like running out of toilet paper. Buy it in bulk, along with hand soap, paper towels, and tissues. Prepare for accidents with plenty of band-aids, alcohol, and antibacterial cream, and be ready for spills with spray cleaner and cloths.
Set Up Designated Areas
Save those "Where did I leave my keys?" searches at the end of the night by having a big tray by the front door. Set up a bedroom where guests can leave their purses and coats, so they aren't strewn around the party area. Nothing will give you the post-party blues faster than a cigarette-littered lawn, so if your friends smoke, designate an area outside with a couple of chairs and a colorful, sand-filled bucket they can use to stab out their butts.
Tune Up the TVs
A few days before the event, test the TVs you'll be using during your party and make sure they receive the channel that will be showing the game. Set up command stations in front of them, like comfy seating and places to set snacks. Add a big stack of coasters for drinks. If you lack seating, spread some pillows and blankets across a section of your floor.
Make Your House Easy to Find
If you are emailing invitations, include a link to an online map and directions to your place. Keep your phone available in case guests have questions or need help on their way over. Tie some balloons to your mailbox, in your team colors, of course, and add a sign in your front yard so it's easy to see which house is yours. Offer as much parking as possible, even if you need to take your vehicle to a neighbor's house to clear up some space.
Decorate with Your Team's Colors
A few decorations will make your home more festive and welcoming. First, decorate your door with your team name, and add some balloons inside. Buy some paper plates and cups in your team colors, and purchase tablecloths for your kitchen and coffee tables to match. You can even use pom-poms and big foam fingers as whimsical decorations that add energy and team spirit to your space, without breaking your budget.
Think about Comfort
Since games last for hours, you can't expect your guests to sit on hard chairs or stand up the whole time. Arrange seats in front of your TVs that are cushy and inviting. If you're using your floor as seating, make sure you have pillows or thick blankets to sit on. If your party is on an outdoor patio or porch, add cushions to your chairs and provide warm throws to snuggle into if the evening turns chilly.
Now comes one of the most important parts of a great football party…
…Put Effort into the Munchies
While you don't need to be a chef, tasty eats are essential to a great football party at your home. You cannot let your guests go hungry, so supply plenty of food. Offer sandwich trays, wings, dips, pizza, pigs in a blanket, shrimp, and other easy-to-eat finger foods that people can graze on throughout the party. Keep your friends' preferences and food allergies in mind so that there is something for everyone. Bowls of chips, pretzels, and peanuts are great to sit beside every seating area to encourage snacking on, too. Round out your table of goodies with a sweet treat of either cookies or cupcakes.
Serve Up Some Fun Drinks
Wash all that yummy food down with plenty of soda and bottled water. If you want to serve alcohol, set out big tubs of iced-down beer and have a station for wine and liquor. Get creative and concoct a fruity drink in your team's colors, complete with a color-coordinated straw. Make sure you have lots of ice on hand to cool everything down.
Offer Some Half-Time Competition
Games help your guests stretch their legs and blow off some steam, especially if your team is, gulp, losing! Break out a game of darts or cards during half time. If weather permits, start up a game of cornhole or horseshoes in the backyard.
Keep Your Guests Safe
If there's been drinking during the game, it's essential to not drive. Call an Uber or Lyft to take people home safely, or offer them one of your extra beds to spend the night. Driving after drinking isn't an option.
Throwing a football party at your home takes some work, but it isn't as hard as you may think. Plan ahead with these tips, and your party will soon become a fun staple of football season for your group of friends.