Essential Home Maintenance Tips for Fall
---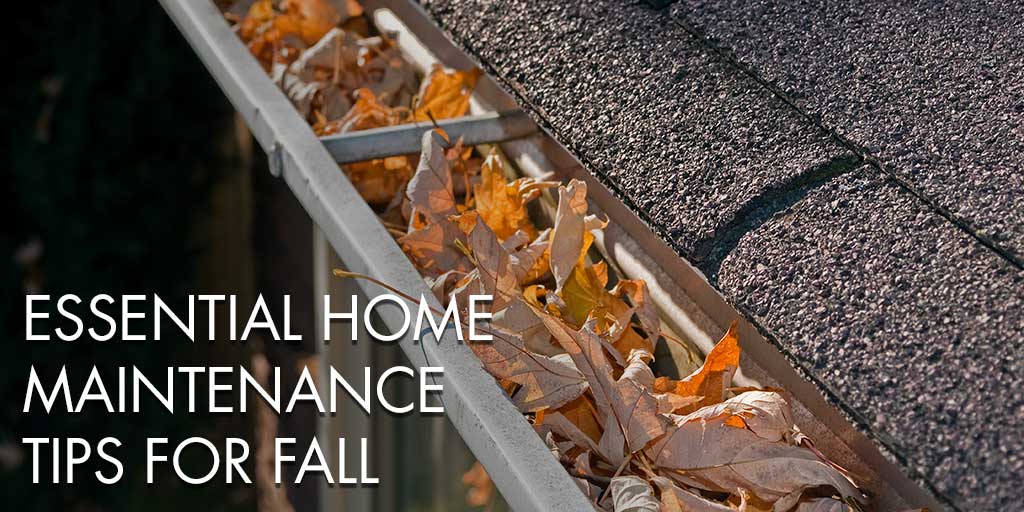 The school bus is back, football's on its way, and there are fewer sun-scorched days. Autumn is right around the corner. With a new season upon you, it's a great time for assessing summer wear and prepping your home for the cooler months of the year. Get your home in shape and ready with these essential fall home maintenance tips.
Practice HVAC Health
Start by spending a bit more money and invest in higher-quality air filters for your HVAC unit. They will help with allergy issues and increase your home's air quality. If you forget to change the filters every month, it won't be as hard on your system as cheaper ones.
It's also time to check your heating system and purchase a thermostat and a carbon monoxide detector, if you haven't already. Clean out your air vents to make sure your system is ready to roll when the temperatures plummet. Another smart idea is to set a thick piece of wood on top of your air conditioning unit to protect it from weather, falling tree branches, and icicles.
Tackle Gutter Gluttony
Clean out all the leaves, dirt, and debris that's collected in your gutters over the summer and check them frequently to keep them clear. If you have large trees in your yard, expect to clean your gutters multiple times over the course of the autumn months as the leaves fall. This might seem like a pain, but it's better than dealing with a damaged foundation because clogged gutters let water overflow. If you notice any of your gutters are dented or not hanging correctly, repair or replace them immediately to keep them functioning properly.
Keep Your Lawn Lovely
Rake your yard or use a leaf blower often to keep it leaf-free. Power-wash your steps, patio, and metal furniture. Store or cover your patio furniture and grill. Disconnect your water hoses so they won't freeze and bust during the winter. If your flower beds need it, add some mulch to keep your lawn as neat as possible during the cold. Now is also the time to plant flowering bulbs to enjoy next spring.
Avoid Faucet Failure
Leaky faucets can drive up your water bill and cause costly pipe issues. Check all your outdoor faucets and repair any of them that are leaking. While you're at it, go inside and check the ones in your kitchen and baths, too.
Get Your Fireplace Fit
Hire a professional to clean your chimney to avoid a dangerous chance of fire during the winter. Throw out any ashes still left so it's ready to offer you a warm, safe, and cozy place to snuggle later in the year.
Prep for Safety Standards
Test all your fire alarms and replace the batteries. Check your fire extinguishers and consider buying a couple more to be safe. Clean out your clothes dryer vent to prevent fires. Call a family meeting and run through your fire evacuation plan in case of emergency.
Sidestep Water Heater Woes
Nobody wants to be working on a water heater in zero-degree weather, so take steps now to keep it functioning well. If it's old, consider proactively replacing it with a new, energy-efficient model. If it's not located inside, don't risk it freezing when the temperature dips to single digits. Buy a water heater blanket and wrap it around your water heater to keep it from freezing in colder temperatures.
Address Drafty Doors (and Windows)
Don't attempt to heat the entire neighborhood! Most of your wasted electricity goes out through leaks around your windows and doors. Turn off your air conditioning, get a lighter, and slowly move it around the edges of your doors and windows. (Be careful of flammable window treatments.) If you see the flame sway, you've just discovered a draft. Purchase and apply weatherstripping to your drafty windows and doors. You can also add heavy drapes to keep drafts from chilling your warm, cozy rooms, and throw heavy rugs up against your doors.
It may still be smoldering hot right now, but we know fall is on its way. Take the time to service your home, store your summer items, and prepare for colder weather, and you'll set yourself up to enjoy fall and winter. When spring finally arrives, you can welcome it in with a house, lawn, and patio furniture that are all still in tip-top condition.