Easy Thanksgiving Decorating Ideas
---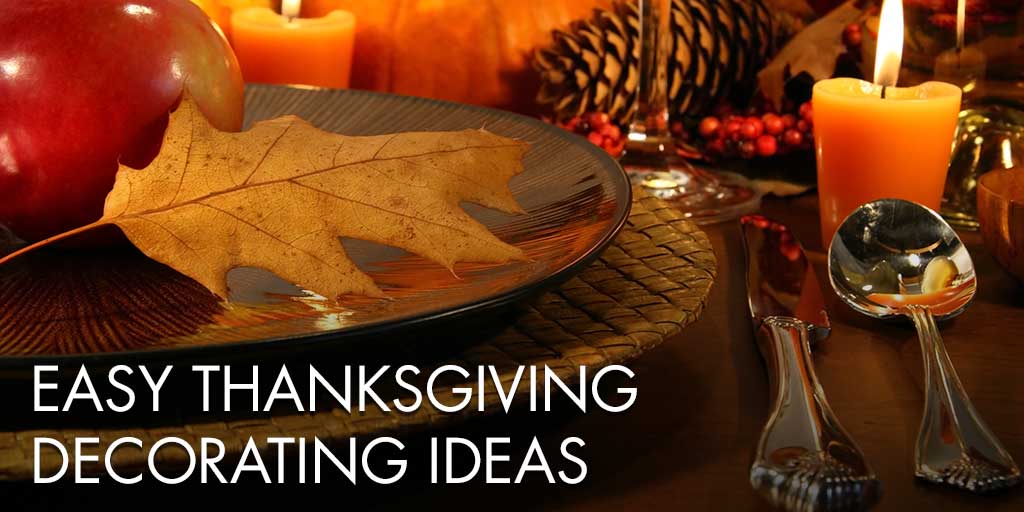 Are you looking forward to Thanksgiving this year? Maybe you're even in charge of the family feast and have the menu of turkey, stuffing, and yummy desserts already planned. If you're looking around your home and finding the holiday décor is lacking, there's still time to create a stylish space to add to the atmosphere of the celebration. Grab your DIY tools, gather some fall decorations, and get to ornamenting with these fun and easy ideas.
The Table
The cornucopia of the feast has a centerpiece, and it's the dinner table.
Craft a seasonal centerpiece.
Channel your inner artist to design a flawless and memorable focal point on this year's table. Perhaps you should choose fall flowers and mix in some brightly colored leaves. Or pick up some pumpkins and gourds and arrange them in a basket with a plaid ribbon. You may want to opt for a more understated look that embraces nature by adding some pinecones into a glass bowl along with some greenery.
DIY your place settings.
Your place settings and centerpiece don't have to be matchy-matchy, but they do need to complement each other for maximum impact. Keep the color scheme the same as the centerpiece and put some silverware wraps together with colorful jewels and wire. Choose high-quality napkins and set your plates on festive placemats. Add a homey touch by using clothespins to hold a written note with each guest's name.
Now that your table is spectacular, touch up the rest of your space.
Indoor Décor
DIY Thanksgiving balloons and wall art.
Add a touch of whimsy with a couple of big turkey shaped balloons. Or go with a classier, more sophisticated vibe and hang some art with cozy fall scenes. If your kitchen has a blackboard, write "Thankful" across it to remind everyone of the meaning behind the get-together.
DIY candle wreaths.
Use some scissors, glue, and materials you can find at your local craft store to put together some unique and charming candle wreaths. Add on some fruit such as apples, dates, and pears for an extra dimension of decoration. Another fun idea is to carve out some small pumpkins and use them as candle holders.
Create some containers.
Chances are good that you already own some containers that could be part of a perfect Thanksgiving display with just a little work. Dig out some mason jars and either paint them or add a ribbon to the top and display wheat on your side tables. Coffee cans can be spray painted and used to hold flowers. Wrap your plain vases in raffia and display some branches of leaves that you can probably find right in your backyard.
Deck out your mantel.
The fireplace is a focal point of the room, so decorating it is a must-do. Choose some fall flowers and vines and lay them across the entire mantel, letting them drape over each side. Complete the look with some candles and a wreath. Or use some old wood slats and create words like "Welcome" or "Thankful" to display. Add a few pumpkins to really set off the theme.
DIY a "thankful" tree.
Ask each guest to write down what they're thankful for and put it in an envelope. As they arrive, they can add it to the tree. After dinner each one can be read aloud and discussed.
Outdoors
Don't neglect your outdoor space when you're planning for Thanksgiving. These ideas will delight your guests before they step over your threshold.
Deck out a vehicle.
Fill your pickup truck up with pumpkins, add some paper turkeys, and put a "Happy Thanksgiving" sign on the bed. Your guests and your neighbors will be amused by your efforts.
DIY a door wreath.
Use your talent to put together a large wreath to accessorize your front door. Go with a traditional round wreath or make it in the shape of a turkey. You can use natural or store-bought materials, add pumpkins, apples, pinecones, ribbons, and anything else that strikes your fancy.
Add a hearty greeting.
Take a piece of metal or wood and paint "Welcome" in bold letters. Hang this on your front porch to make guests feel welcome from the beginning of their visit. If you don't have one, add a welcome mat at your front door.
Re-purpose with flair.
Apple crates, pallets, hay bales, and baskets can all be used as part of your dynamic Thanksgiving display. Add some paint to your items and use them to display a greeting or fill them with bright red apples or orange pumpkins to create a festive ambiance.
Use these to…
Adorn the front porch.
Set up hay bales with pumpkins on top, hang some rusty lanterns, and use baskets to hold flowers or leaves. Add some colorful pillows to your chairs and you have a charming and comfortable place for your guests to relax after dinner – weather permitting, of course.
You don't have to take tons of time and spend a bundle of cash to make your home Thanksgiving-ready. Tap into your DIY talents and take advantage of these easy Thanksgiving decorating ideas to impress your guests and make your holiday fun and memorable.