How to Host a Holiday Dinner Like a Pro
---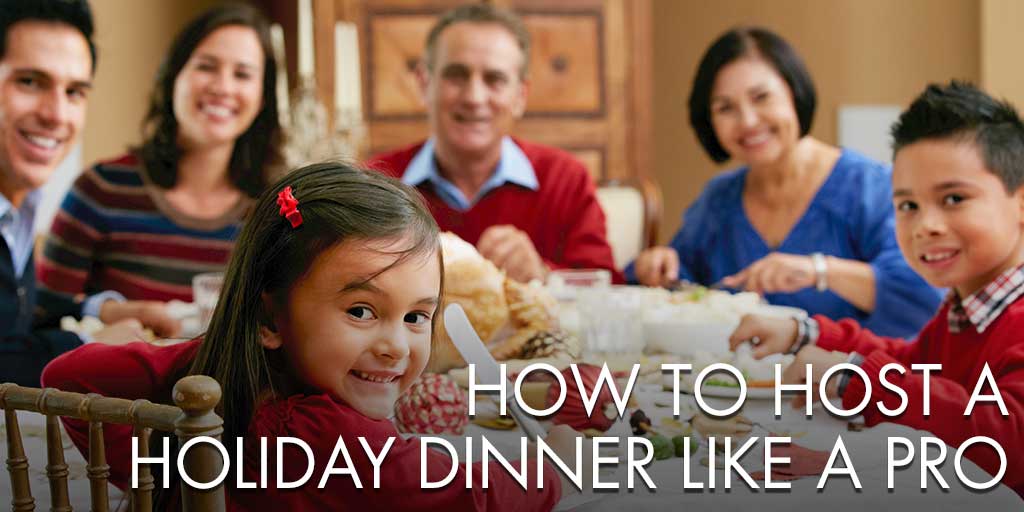 Was your last attempt at a big gathering a disaster? Or have you never hosted one before? No matter what's causing your holiday hosting jitters, you can get past it and plan the dinner of the year. Simply take a deep breath, make some lists, and don't leave anything 'til the last minute. Here are the main secrets of how to host a holiday dinner like a pro.
Plan the Guest List
It's important to think about your guests at the beginning of the process. First, how many people are you going to invite? You need plenty of room to accommodate them all. Then think about personalities. Will everyone mesh well and be able to enjoy each other's company. Also decide if it's a family affair, couples-only, or just your adult friends and family. Write out the list and decide whether to mail invitations, send online invites, or create a Facebook event. 
Create Your Menu
The star of the show for a holiday dinner is the dinner! Think carefully about the food you want to serve. Are you going for a traditional Thanksgiving or Christmas dinner, or do you want to surprise your guests with some off-the-wall food? Your guests' dietary needs must be addressed. Have you invited anyone who is lactose-intolerant or has other food allergies? Is anyone a vegan? Plan your meal with all these thoughts in mind. Also, decide how to present the food. Buffet style? Family style? Already portioned out on the plate?
Shop Ahead
You may need to go to more than one store to get everything you need for hosting Christmas. Some of the most popular Christmas dinner foods may sell out at the grocery store. Buy your turkey in advance and freeze it. Purchase every ingredient you need for recipes and desserts ahead of time, as well. You don't want to run short of anything at the last minute. Speaking of, one of the best ways to send guests packing is to run out of toilet paper. Stock up in bulk before the big day.
Decorate Early
Holiday decorations don't spoil, so put them up several days before your dinner. Trim the tree, adorn the mantel, and hang the wreaths to add to the holiday atmosphere. Get your table ready for guests, too. Put out your holiday tablecloth, place the centerpiece, and set the table. Inventory your plates, bowls, and glasses, and if you don't have enough for the number of guests coming, buy some more. Better to find this out now than hours before the guests arrive!
Clean Your House in Advance
Your house should be in tip-top shape the day of the get-together, but don't wait until then to do it. Do your deep cleaning a few days in advance. Pick up after yourself and wash mixing bowls and cutting boards as you cook so you aren't stuck with a big pile of dishes at the end. Finally, make your entrance inviting by adding a holiday welcome mat.
Thaw the Turkey the Day Before
Biting into a half-frozen turkey can send a dinner party downhill fast. Get the bird out of the freezer the day before so it has time to thaw completely. If your holiday dinner is earlier in the day, think about jump-starting your preparation by cooking the turkey overnight. Time it so it's ready about half an hour before dinner to have time to carve it.
Limit Your Alcohol
As fun as it would be to pound the wine as soon as you start cooking, avoid this temptation. Getting too inebriated can cause you to burn the food or even start a fire! Wait until your guests arrive and the dinner is ready to serve before indulging. 
Dress Up
Don't greet guests in the sweatpants you've been cooking in all day, even if they are just your family. It's the holidays, and you should look nice! Plan what you're going to wear in advance. Before your guests arrive, get ready and dress up in your holiday clothes.
Have Fun!
Once the food is on the table, cut loose and enjoy yourself. You've worked hard to make your guests happy, and now you deserve to have a good time. Visit with your loved ones, pour yourself a drink, and dig into the feast.
It may seem daunting to host a holiday dinner, especially if it's your first one. The key is planning ahead and not straying from your schedule. Get everything ready in plenty of time, give proper thought to the guest list, stay away from too many pre-dinner cocktails, and your party is sure to be a smash. Now you know how to host a holiday dinner like a pro.