How to Decorate for the Holidays When You're on a Budget
---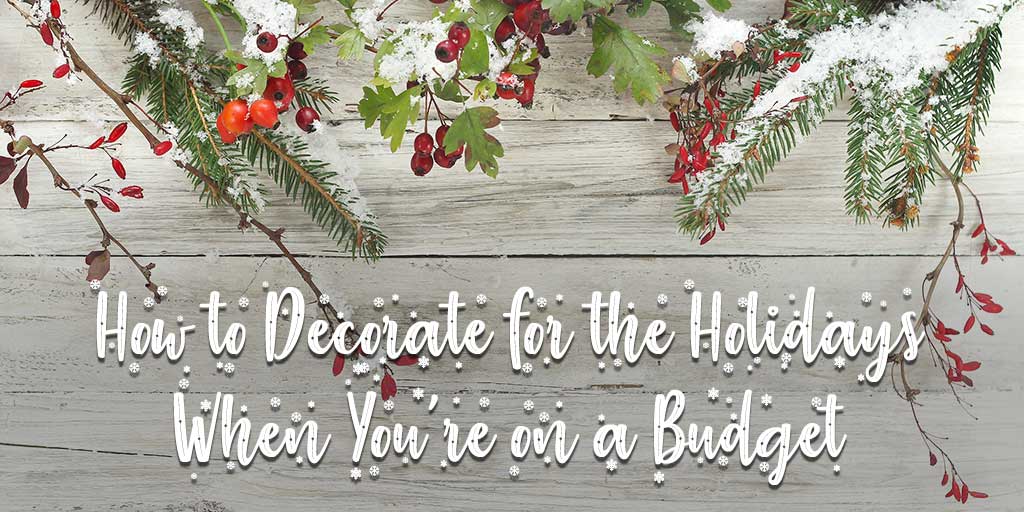 Getting in the Christmas spirit is fun. Once the weather cools, you can't help but start looking forward to the holidays and all they bring. After all, why wouldn't you want to enjoy the entire Christmas season of shopping, spending time with family, and decorating your home to the hilt?
But maybe you're on a tight budget.
Lacking funds is no fun any time, but it especially stinks at the holidays. Unfortunately, it's easy to go all out with holiday decorating and end up depressed and even more broke once January rolls around. Don't do that to yourself when there's a way to get what you want for much less money. You can save your extra cash for presents and still create a beautifully designed home. It just takes some elbow grease and imagination. Here's how to do Christmas on a budget.
Use What You Already Own
Don't spend money that you need for other things, or run up your credit cards, to buy expensive holiday decorations. Your storage shed or attic is a good place to start. Take stock of the Christmas decorations you already have and plan to use as many as possible. Even if you no longer like the decorations or they don't fit with your overall theme, think about how you could improve or change them to fit into this year's plans. Remember, anything you salvage is saving money.
This is also a great time to trash any broken or faded items, and to donate the ones you don't need to charity.
Dust Off Your DIY Skills
Gather some materials to create charming Christmas decorations that complement what you already own. Go for a folksy, rustic Christmas tree by stringing popcorn or cranberry garland. Try your hand at making personalized Christmas ornaments for every family member, even your cat and dog. Use some leftover material and twine to tie some bows to the tree, or put them on garland and adorn your fireplace. An easy DIY project that costs almost no money but is whimsically adorable is to turn your doors into snowmen. These ideas go a long way to adding your family's stamp on the look of your home's holiday decor.
Don't stop there! Use your DIY skills and…
Add Elements of Nature
Some gorgeous holiday decorations may be lurking in your own backyard, or at the park down the street. Pick up some pinecones and use your glue gun to make a unique Christmas wreath. Pick some branches that have berries on them and put them in a tall vase, or gather some twigs for a vase and hang Christmas ornaments from them. Using natural elements is free and brings a lovely dimension into any decorating idea.
Recycle and Up-cycle
You probably have everyday stuff laying around that, with a little attention, can become some stunning Christmas decor. Tie ribbons and bells around mason jars for vases, and spray paint your old bowls gold, silver, and red to hold pinecones, fruit, or candy. Make some small Christmas trees from old sheets of music. Paint your old candlesticks green and red, and add white candles for a festive atmosphere.
Use Candy as Decoration
Nothing screams "It's Christmastime!" like candy canes. They are economical ways to add color and fun to your Christmas decor. Hang them on the tree, add them to your mantel's garland, and stick them into your Christmas wreath. You can also use peppermint candy to decorate a soup can (remove the label first). Simply use your glue gun to stick them on and you have a holiday-ready piece. Find a few different-sized, clear glass bowls and fill them with foil-wrapped chocolate to provide snacks as well as decor.
Hit Up the Dollar Store
When you're planning your Christmas decorating, even if you're re-using, up-cycling, recycling, and making most of it, you might need to purchase a few things. Head to your local dollar store instead of the mall. Chances are good that they have a big inventory of items that will look like a million bucks once you work on them a bit. Simple things like clear glass bowls, jars, vases, and candlesticks can be picked up for a fraction of the cost of a department store. Swing by their floral aisle for some silk poinsettias to use in your wreath-making or other flower arrangements.
If you're low on funds this holiday season, or prefer to save your money instead of dropping a bundle on decorating, you can still create a dreamy house full of Christmas decor. Follow these tips, take a little time to be creative, and shop at less-expensive stores, and you'll end up with both a beautiful house and a budget that's intact.