Tips to Get a Jumpstart on Spring Cleaning 
---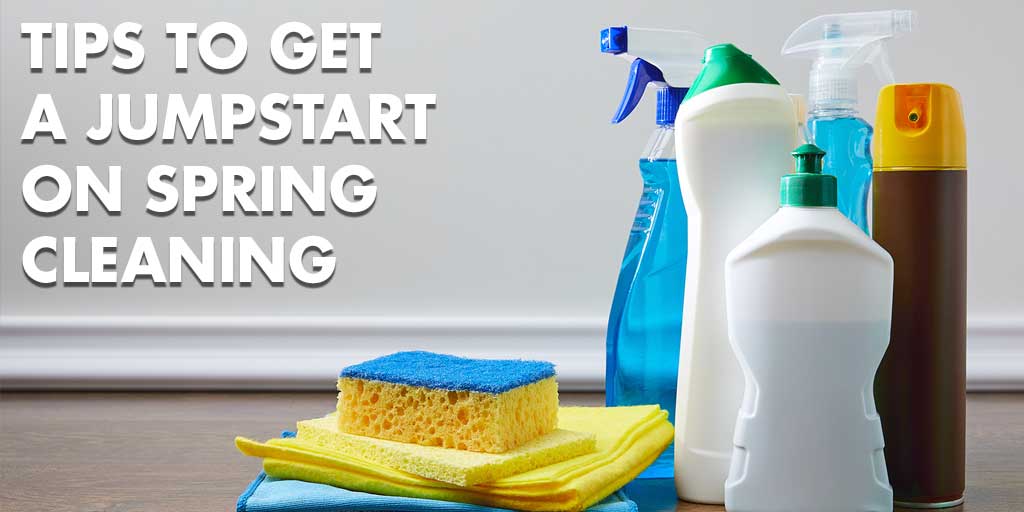 If you live in the South, you know that spring weather can show up early in the year. While we count the days until we feel warmer temperatures and see blooming flowers, there's one thing we don't usually look forward to: spring cleaning.
This year, get an early start on your spring cleaning so you don't have to dread it. Read on for some simple tips for cleaning efficiently so you can wrangle those springtime chores into submission and get them marked off your list.
Make a To-Do List
A detailed plan is essential for keeping a project on track, and spring cleaning is no different. Closely inspect every room of your home and write down anything that needs cleaning, organizing, dusting, or other maintenance. Prioritize them by what needs the most attention, and you have your action plan ready to go.
Purchase Cleaning Supplies
The right cleaning products will make your job much easier. Take stock of what you have on hand and make a trip to your local store to buy everything else you need. Get plenty of general cleaner, bathroom scrubber, floor and tile cleaner, furniture polish, large garbage bags, and window cleaner. Add several rolls of paper towels, sponges, and cleaning cloths to your shopping cart, too. Now may be the time to invest in a new mop and broom.
Check out and you're ready to roll on your first spring cleaning tasks.
Declutter and Purge
Start in a bedroom and build two piles of stuff to move out of your house: "Donate" and "Trash." As you fill large trash bags (that you bought for this task), carry them to your vehicle immediately. This will give you instant gratification. Once the bedrooms are stripped of all items you no longer wear, use, or like, move into your bathrooms and do the same, then the kitchen, then the other living spaces.
If cleaning out clutter takes more than a day, visit the trash and the donation store at the end of day one to keep you from re-thinking your throwaways. Don't bring them back inside!
Rotate Your Mattresses
A good night's sleep is priceless, which is why this task is on the list. Rotating your mattress evens out the wear and tear of use, reducing sagging and lumps that hinder your sleep. Safety note: Find an assistant in the form of a spouse or teenager to help you with this task, or you may be lying on the couch with a heating pad on your back the rest of the day. And you have too much to do for that!
Fire Up the Washing Machine
While you're decluttering and tackling other tasks on the list, get your washing machine going with items you don't launder regularly. Pull down and wash your curtains, take up your washable rugs and throw them in, and strip every bed in the house and wash the bedspreads and comforters. Be sure to follow the washing instructions on all the materials so they come out fresh and bright, not faded and shrunk.
Dust! Dust! Dust!
No horizontal surface is safe from your dust rag and polish. Clear everything off every side table, dresser, and desk and give them a thorough dusting. As you put everything back, run your cloth over each piece, as items such as candleholders, picture frames, and vases attract dirt and dust.
Take down overhead lighting and dust the fixtures, and dust every blade of every ceiling fan. Safety note: Reaching overhead means using a secure ladder that can hold your weight. No climbing on chairs or ottomans. We don't have time in our spring cleaning plans for an ER visit!
Clean the Windows
Start inside while you're washing the curtains and give your windows a good scrub. Then go outside and use a long-handled broom to dust away old leaves and spiderwebs. Wash each window with cleaner that can be attached to your garden hose. Cleaning your windows gives your spring a fresh start with lots of natural light pouring into your space.
Tackle the Fridge
Nothing can be nastier than a fridge that's been left to its own devices for several weeks. Take everything out and toss what is expired or ruined. Use a solution of water and vinegar to wipe down the sides of the fridge, then remove the drawers and wash them in hot, soapy water. Once everything is dry, replace it all and reorganize it so you can more easily find what you need. This will save time when you're making dinner on those busy nights after work.
Scrub Your Bathrooms
Start a deep clean of your bathrooms by clearing out every drawer and cabinet and throwing away any expired products. Use bathroom cleaner and spray your tub and toilet thoroughly, let them sit, and then use a scrub brush to whisk away the grime that may have accumulated from use. Wipe down the faucets, clean the floors, and replace any burned-out light bulbs while you're at it.
Act now to declutter and deep clean your home so it will be shining and spotless by springtime. Instead of toiling away during those first warm days, you can spend them enjoying your beautiful home.