Summer Checklist: Creating a Mostly Low-Key, Fun Summer for Your Kids
---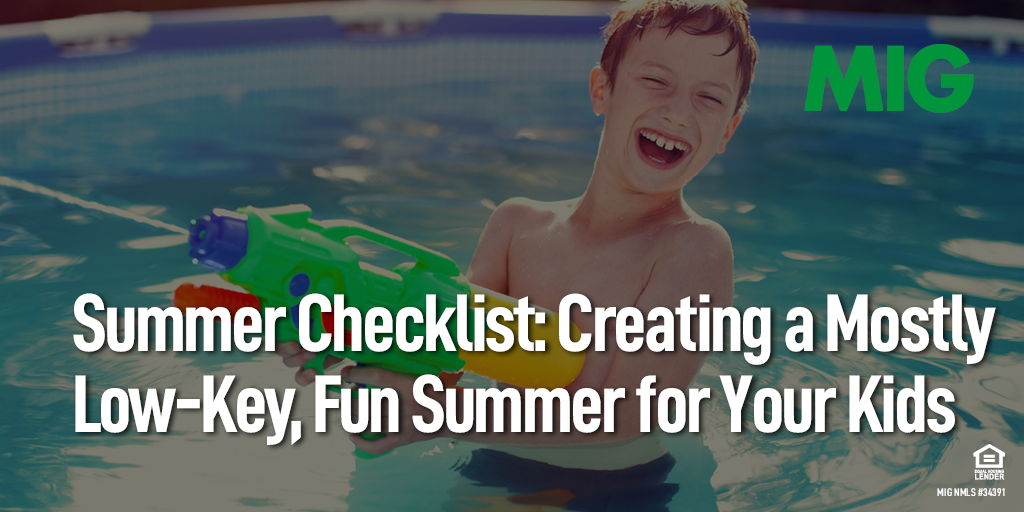 The one-of-a-kind summer of 2020 is upon us. With activities curbed or outright closed, you may be looking at the yawning, empty summer calendar and thinking, "How am I going to entertain my kids?" While some of the typical summer fun may be off limits this year, there are still plenty of ways to fill the hottest days of the year. You just need to be creative!
Don't resign yourself to hearing "I'm bored" every day until Labor Day. Use this summer checklist for 10 mostly low-key – yet still fun – ideas for your kids.
Play Squirt Gun Games
Help your kids cool down, burn off some energy, and have a blast with a squirt gun game. Lay out the rules beforehand and give prizes to the winners. Play squirt gun hide-and-seek or other games that will entertain the kids for hours. You may even want to get in on the fun.
Paint Some Driveway Art
This is an activity you can do throughout the summer. Buy some sidewalk chalk and encourage your kids to draw or write a fun phrase or picture. You can even section off areas with tape for a geometric design. This activity is low-cost, keeps kids busy, and encourages their creativity.
Fill an Inflatable Pool
Is there anything more refreshing than dunking into cool water on a sweltering day? Even a small pool is a good way to cool off. Or get creative and fill it with other fun items like balls, sand, expandable foam, or balloons. This is one of the best summer fun ideas for kids that they'll love all season.
Compete in a "Minute to Win It"
You probably have items laying around the house to use in setting up a relay game in your backyard. Bring out the children's competitive spirit by getting the timer out and seeing which one can master the activities the quickest. Carrying, pushing, running around, blowing up, putting together, and finding things make great parts of the game. Give away a bit of cash or another prize to make it even more interesting.
Go on a Picnic
If you're looking for a way to spend some time outside that isn't too strenuous, pack up sandwiches or other delicious picnic foods, utensils, a yummy dessert, a brightly colored blanket and head to an open park. Or if you want to keep it closer, set it up in your backyard. Eating will be more of an event this way, and it will add a touch of whimsy to the day.
Schedule a Craft Day
A rainy summer day is a perfect time to get your crafting on. Make jewelry, paint a picture, make a photo album, or get a head start on designing holiday cards for friends and relatives. Paint puppets and put on a show. There are dozens of ways to spend a fun day crafting.
Buy a Butterfly Farm
A fascinating way to keep your children occupied while teaching them about science is purchasing some caterpillars and a farm for them to live in. Watching the cocoon and the transformation to a butterfly will no doubt be a positive memorable event for your kids to participate in.
Plant Flowers
One of the most fun summer activities at home that kids can enjoy all season long is gardening. Find some pots the kids can paint and let them choose the flowers they like. Teach them how to weed, water and fertilize the plants so they will thrive. You can also set out some food items like cucumbers, green beans, and tomato plants so they can see that food doesn't magically show up in the grocery stores.
The summer of 2020 may offer limited options, but there are still ways to have lots of fun with your kids. Choose a few of the items from our summer checklist, and get out there and make some memories!