How to Throw An Awesome, Physically Distant Summer Party
---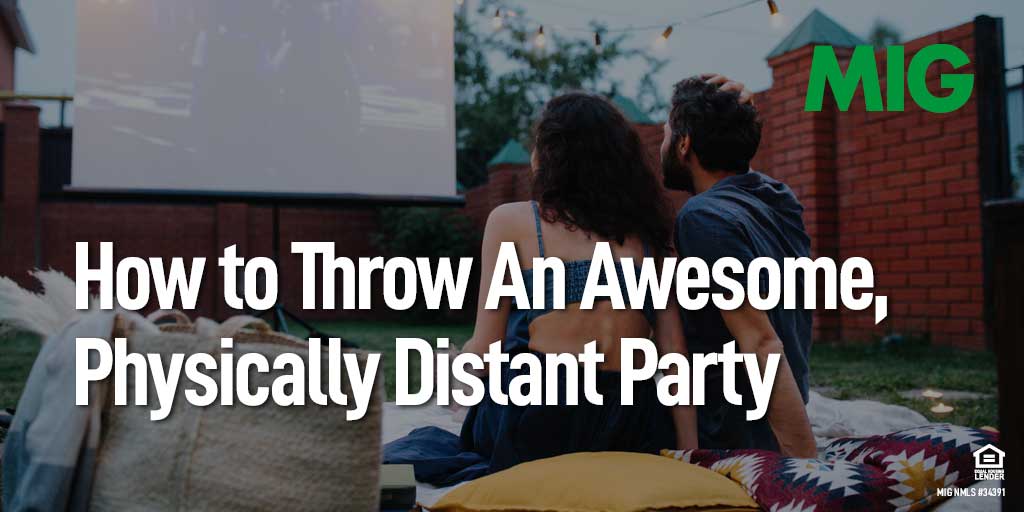 Are you yearning to see a backyard full of laughing family and friends, to listen to them swap funny stories in between bites of grilled hot dogs? The COVID-19 pandemic has bit into our social lives this year, and many of us are left in dire need of some social contact and family fun!
If you want to entertain over the summer but are holding off because you're worried about the virus, the good news is you don't have to sit home alone. All you need is a little creativity to throw an epic summer shindig, while keeping everyone safe at the same time.
Throw A "Park Party"
Instead of inviting guests to your home, ask them to join you in a nearby open city or state park. Everyone can bring their own food, drink, and blanket. Be sure to ask everyone to place their blankets at least six feet apart, which is still talking distance. Enjoy your picnic, eat, and catch up with friends you may not have physically seen in months. You could even have a themed party where everyone dresses in a certain color, or wears a certain pattern on their shirt, hat or shorts. A beach theme would fun!
Host A Virtual Cookout
Set up a Zoom or FaceTime call and ask everyone to bring their favorite plate of grilled goodies to the screen. Even if you're not able to be across the table from them, you can still visit, see what they've cooked, and swap recipes. You could even share some recent photos, play some games, and make sure that everyone at your virtual cookout is outside in their backyard.
Start A Driveway Dance-Off
What better way to practice physical distancing while still celebrating summer than making a playlist of summer-themed songs and inviting your neighbors to "dance" with you? Set a meeting time at the end of everyone's driveway, turn up the volume, and bust out your moves. This celebration will be fun and humorous for the entire family. Well, except maybe the teenagers. Don't be afraid to add hats, microphones, or other props to set the stage for your driveway dancing.
If you won't be satisfied unless you invite people to your house, you can do that, too. Just make certain everyone adheres to physical distancing protocols.

Make It A Movie Night
How about setting up a large screen in your backyard or driveway and hosting an evening of summer-themed films? A huge screen under the stars can be enjoyed all summer and isn't expensive, especially if you consider how much the average family of four spends on regular movie tickets, popcorn, and drinks. Invite a few friends over, set up chairs the proper distance apart, add some popcorn and have plenty of candy and soda on hand.
Throw A Smaller Celebration
As fun as it would be, you can't invite your entire friends list to your festivity this year. How about limiting it to a couple of families? Paring down the guest list gives every person more room to physical distance and keeps everyone safe. Keep the party on your porch or deck instead and set up some games for the kids and a couple of big tables for the adults. Use plastic utensils and cups and have plenty of hand sanitizer setting around.
Line Up A Carport Brunch
Why not forego an evening or lunchtime cookout and start early with brunch? Invite a couple of friends, dress up a little and meet at a large table in your carport, garage or driveway. Set it up with a pretty, summery tablecloth and fresh, colorful flowers. Serve mimosas and some pre-portioned (no buffets!) plates of delicious foods. It will be a fun and different way to celebrate summertime.
Plan A Do-Good Party
The pandemic caused unemployment to soar, so there are many people who could use your help. Instead of having a picnic or backyard BBQ, show your generosity by helping the less fortunate. Gather together with some of your friends and write letters or make treat bags for residents of a nursing home who haven't been able to have visitors in months; cook a meal and donate it to a local homeless shelter; or ship books to soldiers overseas. You don't need to look far to find worthy causes.
Is this summer going to be different than those you've spent in the past? Most likely. Can you still find ways to enjoy it with those close to you? Definitely! Whether virtually or physically, you can creatively make a way to spend time with family and friends while keeping everyone safe from the virus.