7 Spring Homebuying Tips to Get the House You Want
---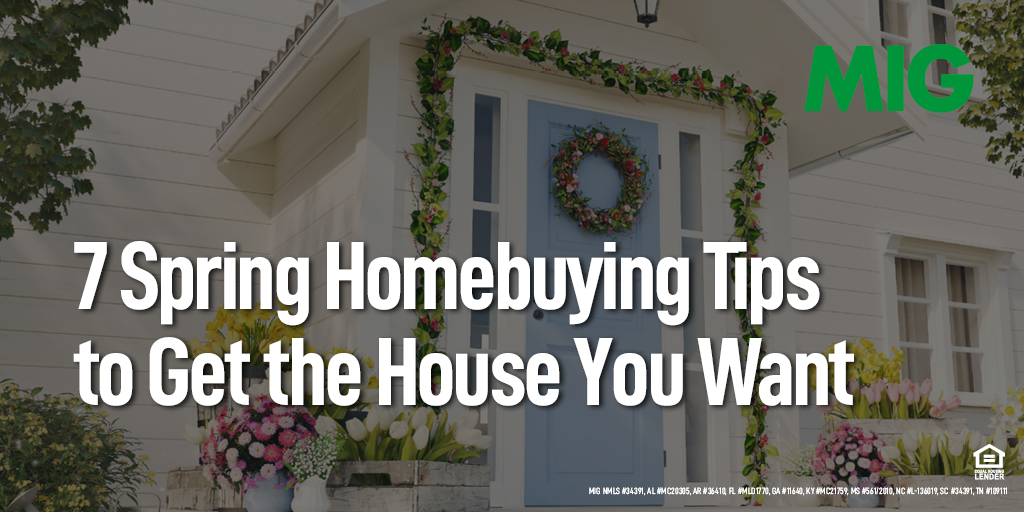 When spring blooms, it seems like a good time to add changes to your life. One that you may be considering is buying a new home. There are tons of good reasons to shop for a house in the spring, from the nice weather to the longer days to the beautiful spring flowers. However, spring is the most competitive time of year to purchase a house. You need to proactively plan your strategy to avoid losing out on the home of your dreams. Here are seven spring homebuying tips to get the house you want.
Identify What You Want
You might have a full page of amenities you think you can't live without in a new home. Throw it away and start over, because chances are good that you will never find everything you wish for in a single home. Choose four to six items that you absolutely must have. A fenced backyard? A certain area of town? A large kitchen? A two-car garage? Cutting out the things that aren't truly must-have's helps you make a more informed choice when you find the house that fits you. Because you're going to need to…
… Move Fast
If you want to sleep on it before making your decision, a hungry buyer is going to snatch the property away from you. If a home has what you're looking for and is in your budget range, it's a good idea to go ahead and make an offer immediately. Spring is the busiest homebuying season, so you must remember you're competing with lots of other people for each property. Being indecisive will leave you out of the running.
Get Email House Alerts
Buying a house in the spring takes more effort than just looking on weekends. Luckily, a good real estate agent can make it easy for you to see properties as soon as they hit the market. Once you choose a Realtor, explain the features you want and your budget. She can add you to a database and filter the information so you receive emails about homes that fit your criteria as they become available. This gives you the jump on buyers who are waiting to see them online. Hopefully, you can get one of the first showings and decide if it's the one for you.
Talk to Your Loan Officer
An experienced, helpful loan officer will be pivotal in buying a home in the spring. Lay out your finances, authorize them to pull a credit report, and talk over your options. He should be able to tell you how much home you can afford and if you can be pre-approved. A pre-approval letter is a powerful tool in the negotiating process because it shows the seller you have the financial means to purchase the home. This soothes their fear about the sale falling apart at the last minute.
Search Below Your Price Range
This sounds like a weird tip, but shopping for a home below your maximum budget gives you freedom other buyers may not enjoy. If you find a house you love, you can offer full asking price or, if you anticipate several offers, you can even up your offer by a few hundred dollars. If all other things are equal, the seller is more likely to take an above-asking-price offer, which may edge out your competition.
Ante Up on the Earnest Money
Making certain the seller knows you're serious about buying their home can ease their mind and make you look like the smartest choice. Nothing gets that point across better than cold, hard cash. A larger amount of earnest money shows that you can afford to buy the home and that you are taking the commitment seriously. A seller will look at this as a positive when weighing your offer against other ones.
Write a Straightforward Offer
If you've found the home you want, don't let a few small concessions distract you from your homebuying goal. When you're buying a house in the spring, it's smart to overlook the worn carpet in the den or the peeling paint in the laundry room. Write the simplest, most direct offer you can muster, which makes it easier for the buyer to say yes to you.
Buying a home in spring does pose certain challenges. Doing some work up front like finding a good real estate agent and loan officer puts you ahead of some other buyers who are working alone. Follow these tips and you can be ready to enjoy your new house by summertime.