Possible Issues That May Delay Your Closing
---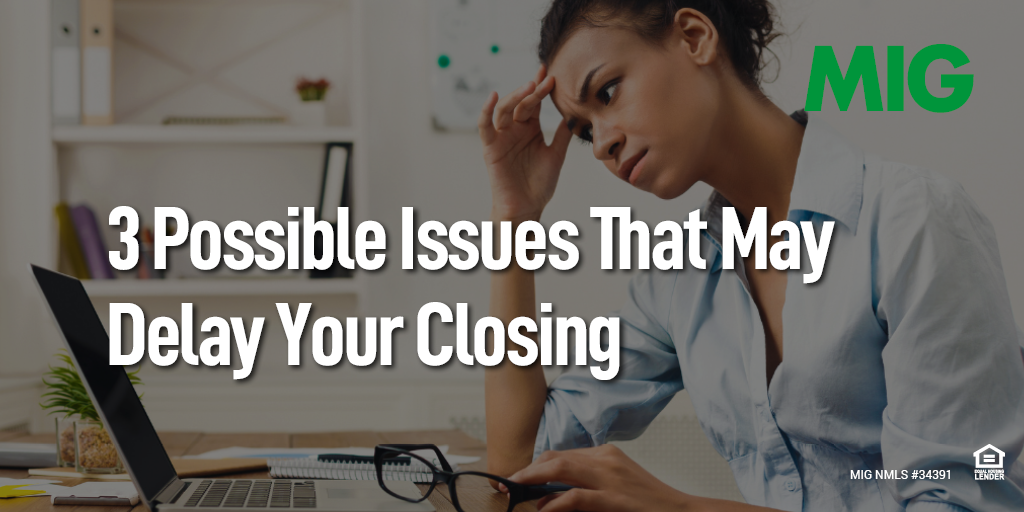 You've found and negotiated your new home, have everything packed up, and are eagerly counting down the days until you get to move in. Then you get the bad news. Your closing is delayed. Why can this happen, and what can be done to avoid it? Grab a cup of chamomile tea, light a lavender candle and read on.
Appraisal Issues
A home appraisal needs to come in at a certain amount, typically at or above the selling price, for the lender to agree to fund the mortgage. If it comes in too low, this can cause your closing to be delayed.
What to do? If you can't afford to pay in cash to avoid the mortgage lender's appraisal criteria, other options include ordering a second appraisal, offering a larger down payment or renegotiating price.
Title Obstacles
Property can't be sold if there are liens against it. If a title search uncovers that the property doesn't have a "clear title," it can take several days to straighten this out, which pushes your closing back.
What to do? Sellers should pay off any debts associated with the house prior to putting it on the market. And buyers should consider title insurance to protect them against any property claims that might have been missed in the title search.
Credit Score Change
Lenders pull your credit to initially approve your loan, but they also pull it again a few days before closing to see if anything has changed. If the score doesn't meet the requirements of the loan program, the closing may be delayed or even canceled until the lender can re-evaluate if the buyer can make the principal, interest, taxes, and insurance payment, or PITI payment.
What to do? Buyers should avoid incurring new debt or paying bills late, both of which can decrease credit scores.
Unexplained Money
Lenders don't like surprises, even if it seems like a significant amount of money showing up would please them.
What to do? If the buyer received an unexpected bonus or a gift from their parents, be prepared to provide the mortgage company a letter of explanation.
Agreed Upon Repairs Aren't Completed
During the negotiations, the sellers may have agreed to replace the roof, fix the broken window, or a myriad of other requests.
What to do? If these concessions aren't met, buyers can ask for a reduction in the home's sale price to cover the cost of repairs or to receive protection from a home warranty.
Walk Through Snafus
The final walk through may uncover issues with the home or, as mentioned above, may bring to light the fact the sellers failed to make the agreed-upon repairs.
What to do? Sellers should make sure all contract terms are met prior to walk-through. If this does not happen, buyers should contact their real estate agent for immediate assistance.
It's never fun for closing to be delayed, but it's smart to be prepared for it, just in case. Do everything your mortgage originator and real estate agent ask of you beforehand, so you won't be the one causing any delays on closing day.