6 Smart Ways To Build Equity in Your Home
---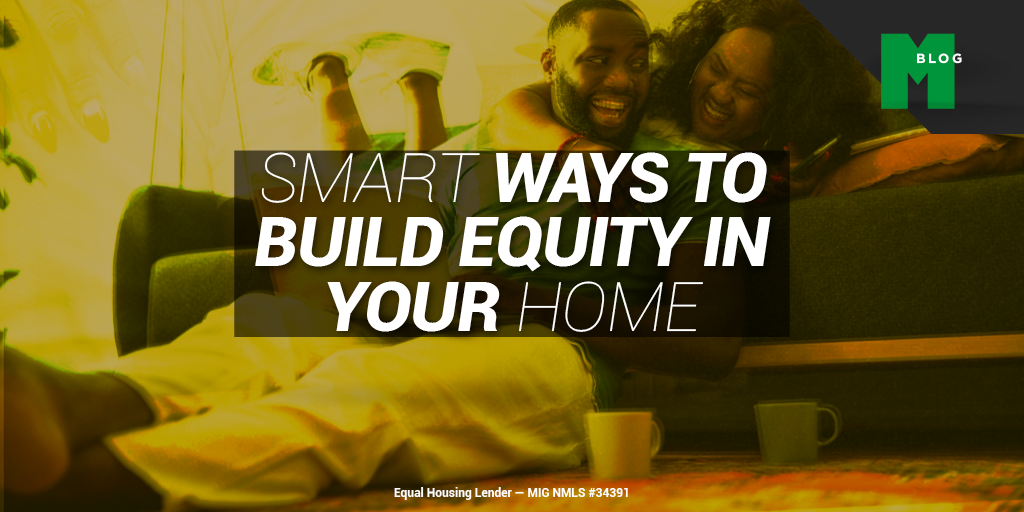 Most homeowners have heard the term "building equity" and know it's a positive thing. Some, however, may not know exactly what it means or how to do it.
The good news is there's more than one way to build equity. Let's look at some of the best ways to build equity in your home.
What Does Building Equity Mean?
Equity is the difference between how much you owe on your property and what you could sell it for. For example, if you owe $200,000 on your mortgage note, and your home would sell for $280,000, you have $80,000 in equity.
Equity builds when either the price that the property would sell for goes up, or the mortgage loan balance goes down.
Homeowners tap into their equity with a home equity line of credit (HELOC) to pay for things like college tuition, home renovations and other important investments. If you sell a home with lots of equity, you'll receive the sum as cash to put into a new property, invest another way or spend.
Here are six of the most common ways homeowners can build equity in their homes.
Pay a Large Percentage Down
When a borrower gets a mortgage loan, the down payment size depends primarily on the type of loan they choose while shopping for a mortgage and what type they qualify for.
The bigger down payment a consumer can put down, the better it is in terms of building equity. That's because a bigger down payment decreases the amount of the mortgage loan.
Homebuyers who can pay a significant percentage down start off with some equity in the homes right from the beginning.
Pay Extra on the Monthly Mortgage Payment
Adding an extra amount to every mortgage payment decreases the mortgage loan faster, which helps build equity. If your budget allows, even $20 extra a month can add to more equity over time.
Finance the Mortgage for a Shorter Time
Many borrowers opt for a 30-year mortgage loan. However, if you want to build equity fast, a shorter loan term can help you do it.
Shorter term mortgage loans require a larger monthly payment, which helps pay down the mortgage loan (and build equity in the property) faster.
Tackle Updates and Renovations
Another common way to build equity is by increasing the property's worth with upgrades. You may decide to add new flooring, kitchen cabinets or lighting. Or, you may decide to upgrade the appliances, add a privacy fence, paint the exterior, or install a new tub or shower. Larger renovations might include adding a garage, extra room or screened-in porch.
Keep in mind that every dollar that you put into your home renovations may not come back in equity, and all renovations aren't created equal. For example, updated kitchens and bathrooms generally increase the value of the home more than adding an in-ground pool. And you'll have a greater return on your investment if you are able to do the work yourself rather than paying a contractor or handyman.
Get Out From Under Private Mortgage Insurance (PMI)
When borrowers pay less than 20 percent down on a home, they must typically buy PMI. This is a type of insurance that pays the lender if the home ends up in foreclosure.
PMI is costly and adds a significant amount to your mortgage payment every month. However, once you have over 20 percent equity in your home, you can have PMI removed from your mortgage loan.
Once PMI is removed, it's smart to add the money you paid for it to your monthly mortgage payment. This extra money will help you build equity faster.
Stay Put and Wait for Prices to Rise
This one isn't fast, but it's effective. The longer you can stay in a home, the better for building equity. Staying put puts two distinct equity-builders into play. First, every mortgage payment you make decreases your loan amount. Second, real estate prices almost always rise over time. So as the years and mortgage payments go by, your home is worth more, your loan amount shrinks — and your equity grows.
Understanding what building equity means and the ways to do it are the first steps toward making it happen for you. Focus on a couple of these tips, and you'll consistently increase your home's equity with every passing month.