MIG named #1 TN USDA lender for the 5th consecutive year
---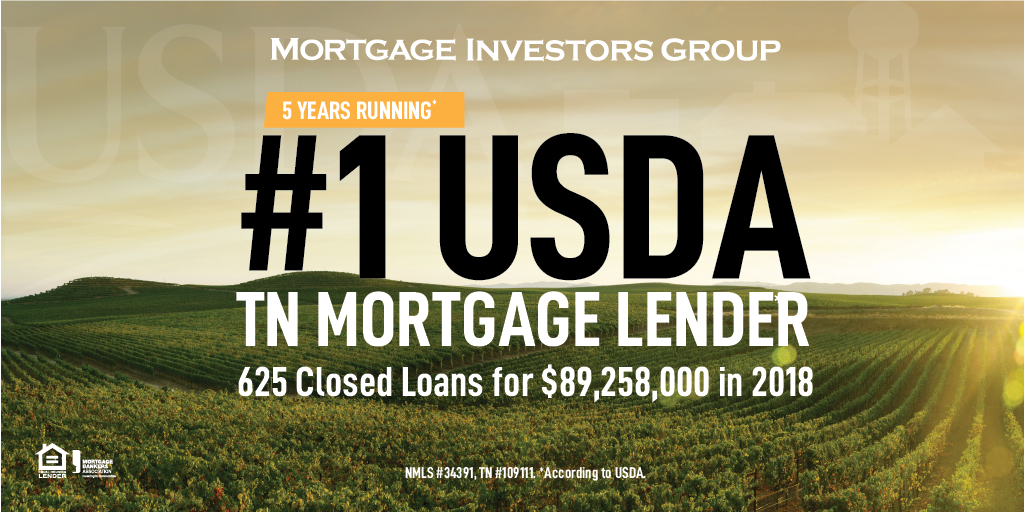 KNOXVILLE, Tenn. – The U.S. Department of Agriculture has recognized Mortgage Investors Group as the top rural housing lender in Tennessee for 2018, company officials announced today. Mortgage Investors Group closed 625 loans with $89,258,000 in USDA loan production. The department's Rural Development office recognized MIG with the same award in 2014, 2015, 2016 & 2017. In addition to being the state's top volume lender, MIG was also recognized as having the lowest default rate in the state as well.
"We are excited to be the number one USDA lender in the state for the fifth year in a row," said MIG President and Co-founder Chrissi Rhea. "This program is important to our customers and important to us. We are equally proud of having the lowest default rate."
As Tennessee's leading residential mortgage lender, MIG assists clients in selecting from a variety of home mortgage loan programs, including conventional loans and those insured by government agencies, including the USDA's Guaranteed Rural Housing Loan Program.
"The USDA home financing program is so important to our customers because it allows up to 100 percent financing," Rhea said. "That alone gives many an opportunity to fulfill the dream of homeownership."
USDA officials presented MIG leaders with the Guaranteed Rural Housing (GRH) Top Lender Award today. They also recognized the company for outstanding underwriting and low delinquency.
Since opening its doors in 1989, MIG has served more than 125,000 clients in excess of $20 billion. The Knoxville-based company has nearly 400 employees in 25 branch locations from Memphis to the Tri-Cities and has also been the Tennessee Housing Development Agency's (THDA) top lender since 2003.