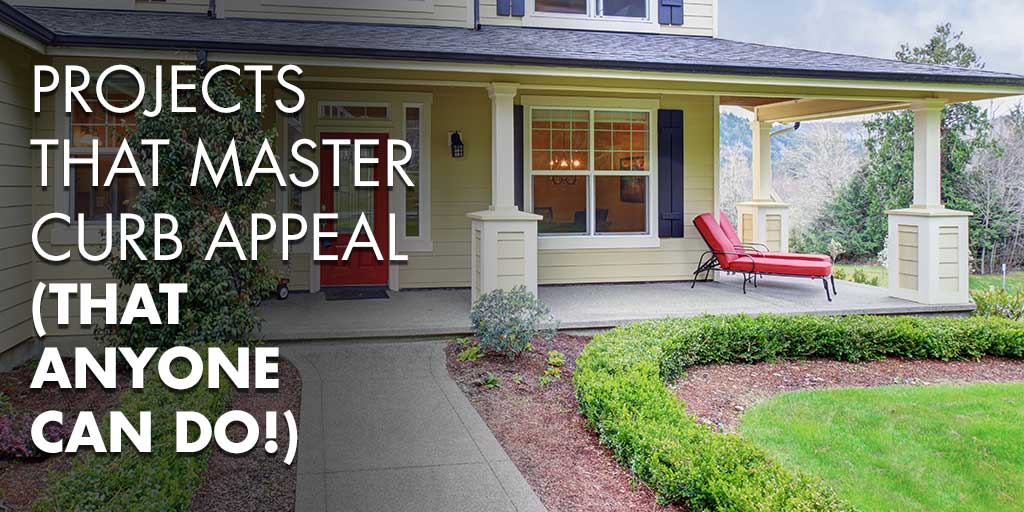 Projects that Master Curb Appeal (That Anyone Can Do!)
Houses with strong curb appeal are worth more, sell faster, and most importantly, they boost your pride as a homeowner! That's why creating an attractive and well-maintained yard and exterior is key to increasing its curb appeal.
Projects that master curb appeal don't have to be difficult or take great skill. In fact, your whole family can join in on some of these ideas to help freshen and improve your property's exterior. So, get the spouse and kids, and start tackling some of these DIY ideas today.
Create Stepping Stones
Both whimsical and functional, a path laid with stepping stones makes a great first impression. Use them to lead from your driveway to your porch, your side door to your mailbox, or any other route you take often. Stepping stones help avoid wearing down an ugly path in your yard from traipsing over it several times a day, and keep your yard looking immaculate.
Paint Your Mailbox
Your mailbox is like your home's smile; people notice it first. Make sure you have a sturdy, good-quality box, and then paint it an appealing color that complements your house. If you want to show off your family's personality, either write your last name in script letters, draw images like dragonflies, flowers or butterflies on it, or find some stickers and add them to it. Your creative decoration will be eye-catching and may evoke pleasant emotions for everyone who passes by.
Plant Some Flowers and Shrubs
Buy some potting soil and tools and beautify your yard with some blooms. Choose plants that fit the part of the yard where they will live. If you already have trees, plant some ground covering, shade-loving plants underneath them. Add some green shrubs by your porch. Consider installing window boxes and using them for cascading greenery to make an inviting statement all the way into fall. Finally, pick out some pretty blooming flowers and set them out around your mailbox for pops of color in the front part of your yard.
RELATED READ: 10 Awesome Ways to Transform Your Backyard This Summer
Pressure Wash Your House's Exterior
Visit your local home improvement store and either purchase or rent a power washer and use it to get the dirt, cobwebs, and leaves off of your home's exterior. Wash the front and sides of your home, then use it on the doors, around the windows, and run it over the porch, steps, and driveway. A spotlessly clean facade is instantly gratifying and improves the look of your home immediately.
Tend the Driveway and Porch
Don't get so caught up in the yard that you forget to give the driveway and porch some attention. Start by cleaning them, then spray weed killer on any offending weeds that have had the audacity to spring through the cracks. Replace or paint the porch's railing and add a welcome mat to make your home more inviting. If your driveway is asphalt, use sealer to make it look better and also to protect it. Finish these two areas off with some potted plants and complementary lighting.
Freshen Up the Paint
If there are areas of your exterior or trim where the paint is peeling, it's time to address that problem. Don't worry if you don't remember the color of paint you used last. Simply peel off a bit of it and take it to your paint store to let them match it for you. Sand down the area and apply a fresh coat to instantly take your home from mediocre to marvelous!
RELATED READ: Tips and Tricks to Paint Your Home's Exterior
Give Your Yard A Manicure
No matter how many investments you make, your curb appeal will be lacking if your grass is dry, dead, or overgrown. Drag out that mower or hire a yard crew and commit to a consistent lawn-care schedule. Add some fertilizer and sow some new grass if you have bald spots on your lawn and invest in grub killer to control the varmints. Trim back overgrown trees and have ailing or dead ones cut down. Trim your hedges, pull your weeds, and tame any other overgrown plants or flowers that are trying to take over.
A couple of projects with staying power include…
Plant Native Plants
Even if you don't have a green thumb, plants that are meant to grow in your geographic location are easy to maintain and flourish easier. Find out what zone you live in and choose plants that naturally live and thrive there. An added benefit of native plants is that they use less water, which can save you time and money in the long run.
Make A Rock Bed
A fun home improvement project that lets you channel your creativity is designing a rock bed. Choose some non-porous rocks in varying colors, find a spot, and lay them out. Add a few hardy plants, or just leave them on their own for a nice, understated look. These are a budget friendly way to add curb appeal that will look nice for years.
Being a homeowner means making an effort to keep the inside of your house functioning well and up-to-date. But you can't forget the outside. If you start now, you can tackle all the projects we've mentioned and, before you know it, your home's exterior will be the best on the block.