Selling Your Home in the Spring
---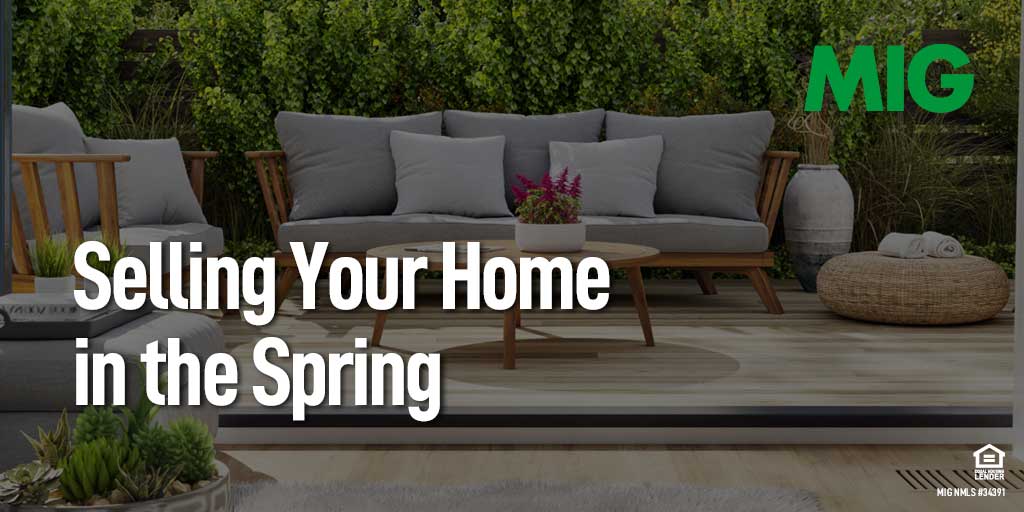 From warmer air, colorful fragrant flowers, and longer days filled with more sunshine, spring brings most people positive feelings and renewed energy. This time of year typically boosts the housing market and has proven to be a prime time to sell your home. Although the temperate weather in the South makes for pleasant house shopping all year around, most people enjoy getting out and about more so in the spring. This is especially true for the people traveling from other states looking to relocate to a warmer climate.
If your home is going on the market, there are little things you can do that make it more appealing to buyers. Get the most money possible out of your home, and sell it fast, with the following selling tips.
Tend To Your Lawn
Make a killer first impression by keeping your yard flawlessly maintained. Mow it, trim it, rake it, and keep your bicycles, volleyball net, children's toys, and any other clutter stored out of sight. Also consider hiring a professional lawn company to sow grass in thin spots and fertilize the rest. Expansive, velvety green grass is what buyers want to see.
Add Some Blooms
Planting flowers is a great way to add color and interest to your home in the spring and summer. Buy some annuals and plant them in front of your house, around trees, and beside your mailbox. Find some big pots and mix some blooms in with green vines and set them on your porch. Buyers are sure to notice and appreciate your efforts.
Clean Your Windows
Make the most of your home's windows by shining them up. Knock down any cobwebs or old leaves that stuck to your windows during the winter. Purchase a cleaner that attaches to your garden hose for an easy way to make them sparkle. Finish the process by tackling the inside glass with cleaner and a microfiber cloth to make every window clear and debris-free.
Related Read: Tips to Get a Jumpstart on Spring Cleaning
Re-Paint
A gallon of paint can work wonders, so use this cost-effective hack to your advantage. Spring for a high-quality hue and touch up any peeling paint on your porch railings, shutters, or window trim. Paint your front door a bright color so it looks fresh, bright, and welcoming. Inside your home, tone down any taste-specific colors with a neutral tan or gray. This will make it show better to a wider number of buyers.
Don't Neglect Your Curtains
Take down your window treatments and either wash them or have them dry-cleaned. Re-hang them at a wider angle so more of the window, and the sunshine, shows. When buyers are visiting, keep your blinds and curtains wide open to get the most out of spring and summer's natural, inviting light.
Hang Mirrors
Mirrors are magic tools that make a room bigger and brighter. Add mid-sized mirrors to small rooms directly opposite of windows to magnify the space's natural lighting. Place a large floor mirror at the end of your hallway to give a larger, wider appearance. Mirrors work with the extra daylight of summer to help your house show beautifully.
Spend Money on Big Pay-Off Projects
Get the most bang for your buck by investing in projects that increase your home's appeal the most. Kitchen backsplashes completely liven up a boring kitchen. Add tile to your outdated bathroom and upgrade your kitchen and bathroom faucets. Hang some large house numbers so buyers can find you easily, and make sure all your lights have working bulbs, especially in your bathrooms.
Related Read: Top Home-Décor Trends for 2020
Stage Your Porches and Decks
Buyers undoubtedly want to enjoy their new home's outdoor living space. Help them visual themselves on your patio, porch, or deck. First off, repair any missing boards or rough surfaces. Pressure wash and treat the wood and get rid of clutter that's accumulated through the years. Set up a sitting area to showcase the space, including a grill and umbrella for shade. Final touches like green plants, lanterns, and a rug add extra oomph that may entice the buyer.
Brighten the Bedrooms
Dark, drab bedrooms do little to pique a buyer's interest. Purchase some brightly colored bedding and lots of pillows, a printed rug and some complimenting curtains. Add a large vase with fresh flowers, or a couple of plants. Turn on some lamps and overhead lighting to make the space as bright as possible.
Selling your home in the spring and summer sets you up for success. With more buyers looking, it's natural to assume it will be easier. However, you can further contribute to selling quickly and at a higher price by getting it ready to show in the best light possible. In no time at all you'll see a "Sold" sign in your front yard, and you'll be on to the next chapter of your life.