The Importance of Documenting Assets When Considering Financial Stability
---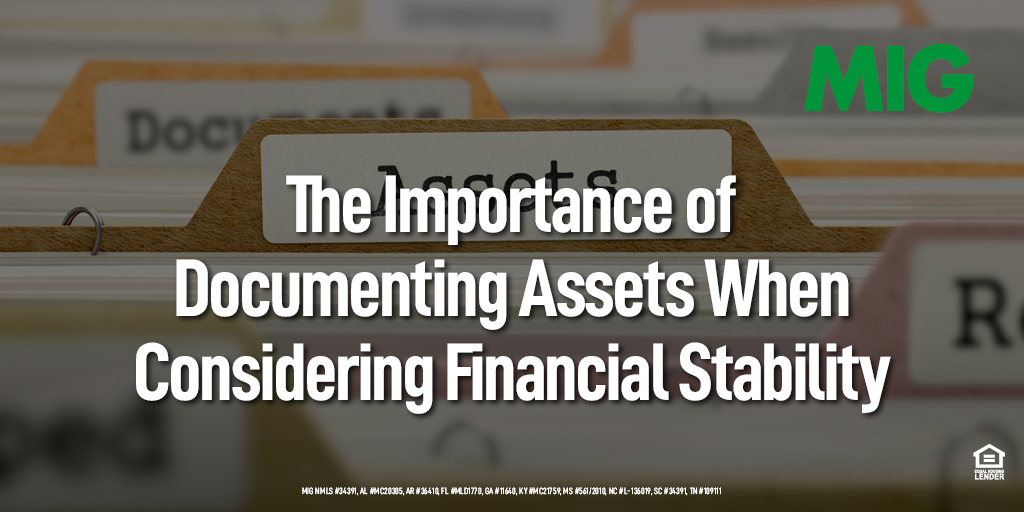 Lenders look at a variety of factors when deciding if a potential borrower will be able to repay a mortgage loan, such as down payment, credit history, debt load, and income. Your assets are an important part of the equation as well. Acquiring assets shows financial stability and can have a big impact on your ability to get a mortgage, whether you're going for a traditional loan, an FHA or VA loan, or a USDA home loan. Let's look at some important information about assets.
What are some examples of assets?
Your assets are finite items of value you've accumulated. Assets add to your net worth and show that you're a good credit risk. Examples of personal assets are cars, boats, houses, land and even valuable jewelry. It also covers your financial assets like your savings account, stocks, bonds, your retirement accounts, and your life insurance.
Why are they important to the lender?
Extending credit comes with an associated risk, and lenders take steps to minimize the risk of losing their investment. For borrowers who can show a number of assets, the risk is perceived as lower than borrowers who don't have any assets. Lenders are more comfortable approving borrowers who can show documented assets, as they help offer a more positive financial picture for the mortgage applicant.
How do you document assets?
Proving you have assets means you need to bring documentation to your lender. Bring your bank statements, retirement account balances, and statements from your stock portfolio. If you received a gift (from your parents, for example) as a down payment, be prepared to show a gift letter proving the money was truly a gift and not a loan. You might also need to give your lender permission to verify your assets with your financial institutions.
What does "seasoned" assets mean?
Seasoned assets are a good thing for your chances of securing a mortgage. This term refers to your assets being in the same place for 90 days or longer. For example, if your saving account has had $20,000 in it for a year, all that money is considered a seasoned asset. On the other hand, if you've saved diligently from the last four paychecks and built up a savings account, that money is not seasoned. Lenders look at established accounts as part of a more credible, dependable financial picture and weigh seasoned assets more favorably than new ones in approving you for a mortgage loan.
Being able to show documentable assets is a critical part of your mortgage approval process. Gather the required documents to give the lender evidence that you can handle and manage the responsibility of a monthly mortgage payment. However, don't be discouraged if you have few or no assets, as they are just one piece of information the lender looks at in determining your financial health.
Let MIG help pave the way to owning your dream home. Contact us today to discuss your homebuying goals.