Dreading Moving Day? 7 Summer Moving Tips to Take Out the Stress
---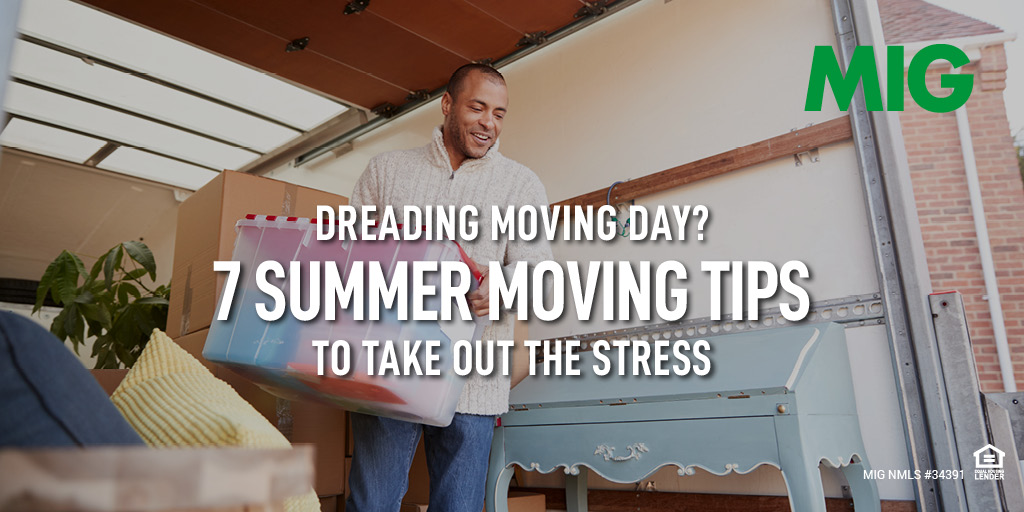 Posted by : Admin
Buying a new home is exciting, but the actual process of moving is far from thrilling. The thought of packing up and hauling all your belongings, whether across town or across country, can be stressful. Avoid getting overwhelmed by planning early for your summer move.
Benefits of moving during the summer include longer days and no disruption to kids' classes. But this time of year also comes with its own steamy challenges. You can proactively smash your moving goals by following these seven summer moving tips.

Before Moving Day
Clear Your Schedule
Summer is typically a busy time of year. However, moving day isn't the time to meet a friend for lunch, squeeze in a doctor's appointment, or take the kids to swim lessons. Overbooking on moving day ends up creating more stress for you and your family. Take the day off work and push any appointments or meetings a few days out. This way, if something unexpected comes up (the movers are late, a box collapses, etc.) you have time to address it.
Book Your Movers! Book Your Movers!
This one is so important, we said it twice. Summer is the prime moving time, and movers can book up months in advance. As soon as you have your moving date nailed down, start calling movers for quotes. After choosing, sign a contract that specifies the date and time they'll get there. Touch base with them three days before to confirm the address, date, and time. This ensures you won't be standing there with a packed-up house waiting for movers who thought it was a different day.
Start Donating/Throwing Stuff Away
Taking old stuff you never use to your new place doesn't start you off on a good note. Donate or sell old items that are in good shape but that your family no longer uses, such as clothes, toys, furniture, books and home decor. Toss anything that's broken or worn out. Once you start packing, you'll be glad this stuff is already out of your way.

On Moving Day
Dress Appropriately
It's easy to overheat during hot weather, especially if you're doing physical labor. You're probably going to be outside a good part of the day, so make sure you're as cool as possible. Wear thin, breathable fabric in light colors. Tank tops and shorts are the ideal summer moving uniform. While sandals are cool, they aren't a safe choice for moving. Opt for closed-toe shoes with good tread to avoid falls while you're carrying boxes into your new place.
Use Sunscreen
You'll be in the sun more than you think during your summer moving day, so don't end up with a painful burn. Just a few minutes of sun can burn your exposed skin. Choose sunscreen with at least 30 SPF and make sure it's waterproof, since you'll most likely be sweating as you move. Pack a bag to keep with you that has a bottle of sunscreen. Slather it on your face, neck, and arms before you start moving. Reapply throughout the day to stay protected.
Have Plenty of Fluids Handy
It's easy to get dehydrated during a summer move, and that can be dangerous. Pack a large cooler full of bottled water for your family and encourage everyone to drink throughout the day. Offer it to your movers, too. And don't forget your furry friends' health on moving day. Make sure your animals always have access to fresh, cool water to keep them from overheating.
Load Your Electronics Last
Summer temperatures can harm certain electronics. Stay vigilant about protecting these possessions by packing them carefully and loading them into the moving truck last. That way, they'll be unloaded first into your new place and spend as little time possible in the excessive summer heat.
These tips will help reduce the stress of moving during summer. While it will still probably be hot and sticky, you, your family, and pets will be safe and healthy during your move. Enjoy your new home!